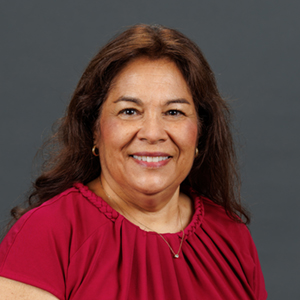 Mari Luna De La Rosa, Ph.D.
Assistant Professor, College Counseling and Student Development
Mari Luna De La Rosa is an assistant professor in the Department of Higher Education. Her research focuses on diversity in higher education, college access and financial aid for low-income students, student retention, and faculty-student engagement. Before coming to APU, she was research director at The Institute for College Access and Success (TICAS) in Berkeley, California, where she worked on college affordability issues.

Luna De La Rosa conducted research at the Center for Higher Education Policy Analysis, Rossier School of Education, University of Southern California, as a postdoctoral research associate. She worked with nine low-income high schools in the Los Angeles area to understand the precollege perceptions of low-income students on financial aid and college opportunity. She was part of the evaluation resource team on the James Irvine Foundation's Campus Diversity Initiative based at Claremont Graduate University.

Luna De La Rosa has made numerous research paper presentations at professional conferences including the Association for the Study of Higher Education (ASHE), American Educational Research Association (AERA), the Association for Institutional Research (AIR), the National Association of Student Personnel Administrators (NASPA), and the American College Personnel Association (ACPA). She co-authored a chapter in the special edition of American Behavioral Scientist on financial aid and access to college: the public policy challenges, and co-edited a recent special issue of Christian Higher Education on diversity issues in Christian higher education.

She completed her Ph.D. in the School of Educational Studies at Claremont Graduate University. She received her Master's in Public Administration from Arizona State University and a B.A. from the University of California, Santa Barbara. In addition to her research experience, she worked with students as a financial aid advisor and directed a summer writing program for low-income high school students.
Education
Ph.D., Education, Claremont Graduate University
M.P.A., Arizona State University
B.A., University of California, Santa Barbara
Department
School of Behavioral and Applied Sciences
Department of Higher Education
Courses Taught
CCSD 567 – The Role of Diversity in Student Affairs Practice
CCSD 575 – Quantitative Analysis in College Student Affairs
CCSD 581 – Foundations of Higher Education
HED 726 – Policy Analysis in Higher Education
HED 728 – Policy and Politics