"…listen:there's a hell
of a good universe next door;let's go"
—e e cummings
Have you ever felt the desperate and earnest desire to simply go? Transportation, schedules, and destinations suddenly have no meaning; you need to GO—go away from your current location, go away from your comfortable life, and dive into people's lives that are void of hope and rife with confusion. Your soul is restless, unable to solve the equation of life, but not necessarily looking to find the solution. No part of yourself feels connected to where you are—even your feet are loosed from the ground—and your heart is plastered against the back of your chest, broken and simultaneously aching to escape. Somewhere in the back of your mind is the constant beckoning to a neighboring universe that is standing at your fingertips; a universe that, if you would extend your hand toward it, would come sprinting to hear the truth, jump on your back and say, "Let's go."
Several times over the last few weeks I have heard questions such as these asked by frustrated APU students: What is the point of studying about a broken and dying world when I could just go out into it now? How can I be content to sit and learn about those who have lived lives without love, knowing that I am doing nothing to prevent it from happening again? Why can't I leave everything and just go? Isn't that what Christ calls us to do?
My initial reaction is one of restraint—I want to convince them that getting an education is necessary to succeed in our society and to prepare them to face the world they are so eager to engage. But then I am forced to think again. Christ did not call us to succeed; he called us to serve. It wasn't a matter of being educated, either. Preparedness meant nothing. Did He not call the unprepared and lowly to be His disciples?
I am not speaking against going to a university like APU—as an English major with a teaching emphasis I am absolutely convinced of the power and necessity of an education to refine a person's beliefs, personality, and social and academic maturity in the world. However, when it comes to the yearnings of someone's heart, my mind's excuses should not be about the institution of a thing, but about God's will and work in that person's life.
In John 4 Jesus encounters the Samaritan woman at the well. I recently studied this chapter with my small group here on campus and was strongly convicted by Jesus' words and choices. Everyone around Him—the woman as well as the disciples—are solely concerned with physical things; yet, when confronted with each of their excuses, Jesus presents a new way of thinking and gives a wider, more eternal perspective. The woman tells him that the concept of "living water" is impossible because Jesus (1) has nothing to draw water with, (2) could not possibly reach to the bottom of the deep well, and (3) could not possibly be greater than he who had built the well. Jesus responds, however, saying that He himself is the source, that from Him such living water flows, not from a man-made well. Later, when the disciples return and offer Jesus food, Jesus refuses their attempt to supply his physical needs and says, "My food […] is to do the will of him who sent me and to finish his work." Jesus does not even acknowledge their objections, but rather encourages them to think differently.
To think eternally.
To put their faith in that which lasts.
To follow the will of the Father.
To trust His word and not their own feelings.
I cannot stifle the sound of a heart crying, "Hosanna!" and longing to go out into the world. But I cannot encourage their convictions without direction. Jesus' food was neither to stay nor go, but to let the God who sent him direct his path. Let the Holy Spirit be your living water and your supply. Run with abandon to the Father and earnestly seek His will—He may send you charging to the battlefield of this world, moving you with an unshakable hope and a flaming passion to see His kingdom come.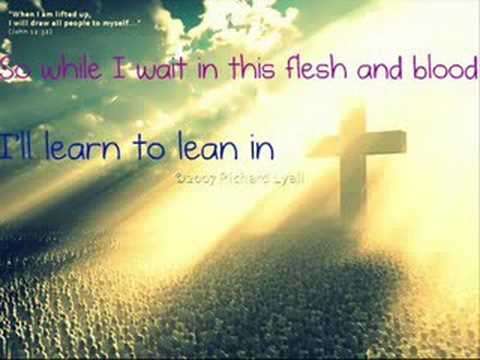 Ask God to show you HIS kingdom, not yours. Ask questions and drink of the living water that Christ freely gives.
"'Sir,' the woman said, 'you have nothing to draw with and the well is deep. Where can you get this living water? Are you greater than our father Jacob, who gave us the well and rank from it himself, as did also his sons and his flocks and herds?'
Jesus answered, 'Everyone who drinks this water will be thirsty again, but whoever drinks the water I give him will never thirst. Indeed, the water I give him will become in him a spring of water welling up to eternal life." John 4:11-14 NIV