About APU
Founded in 1899, Azusa Pacific University (APU) is dedicated to helping students grow as a whole person through involvement in rigorous academic programs, exciting social events, and ministry opportunities. APU welcomes students of all faiths to attend.
Students are prepared professionally through a strong liberal arts program and challenging undergraduate, graduate, and doctoral programs. A low student-professor ratio allows excellent interaction. Modern library facilities also give students access to up-to-date research and information worldwide. In addition, students who wish to study English as a second language can apply to APU's American Language and Culture Institute (ALCI) which specializes in preparing international students for success in an American university.
Located at the base of the San Gabriel mountains in the city of Azusa, APU provides a secure small-town atmosphere where students live within walking distance of restaurants, entertainment venues, churches, shopping, and much more. Additionally, students are within a 45-minute drive of downtown Los Angeles and other exciting locations such as Hollywood, the Getty Art Museum, L.A. Music Center, baseball and basketball stadiums, amusement parks (e.g., Disneyland, Knott's Berry Farm), the mountains, and numerous beaches.
Learn more about our Azusa Campus.
Azusa Pacific University
Founded 1899
Campus Locations
Azusa Pacific University is located in the San Gabriel Valley community of Azusa, 26 miles northeast of Los Angeles. Situated on 52 acres, East Campus houses administrative facilities, classrooms, residence halls, a library, student center, and gymnasium. The 53-acre West Campus is home to the schools of Nursing, Behavioral and Applied Sciences, Education, and Theology, two libraries, the Richard and Vivian Felix Event Center, the John and Marilyn Duke Academic Complex, the Barbara and Jack Lee Place of Prayer, and numerous classrooms and offices. Completed in 2009, the 72,000-square-foot, $54-million Segerstrom Science Center is also on West Campus, serving multiple disciplines and the community at large.
There are also six offsite regional centers serving the High Desert, Inland Empire, Los Angeles, Murrieta, Orange County, and San Diego, as well as many online programs.
Academic Year
Undergraduate: Two semesters—early September to mid-December, and mid-January to early May—plus two summer sessions.
Graduate: Two fall sessions—mid-September to mid-October, and mid-November to mid-December; two spring sessions—mid-January to mid-February, and mid-March to mid-April; plus two summer sessions.
Off-Campus Study Options
APU students have more than 40 national and international study opportunities, including High Sierra Semester, Los Angeles Term, study abroad programs, South Africa Semester, and Azusa Oxford Semester.
Climate
Moderate climate; mostly warm and dry throughout the year.
Freshmen Admission Profile (Class of 2017)
| Number Applied | 5,105 |
| --- | --- |
| Number Entering (first time, full time) | 1,217 |
| Average high school GPA | 3.64 |
| Average combined SAT score | 1,091 |
| National SAT average score (2011) | 1,020 |
| Freshmen retention (fall 2012–13) | 82% |
Financial Aid (2012–13)
Scholarships/grants
Federal
$7,567,945
State
$9,630,010
Other external scholarships/grants administered by college
$409,355
Institutional
$48,600,846
Self Help
Student loans
$28,031,605
Parent loans
$12,083,972
Tuition waivers
$3,010,318
Athletic awards
$3,276,515
Percent of undergraduate students receiving any form of financial aid
90%
Faculty
| Total teaching faculty | 1,004 |
| --- | --- |
| Full-time | 433 |
| Part-time | 45 |
| Adjunct | 526 |
| Student-faculty ratio | 14:1 |
| Undergraduate ratio | 16:1 |
| Graduate ratio | 11:1 |
| Percent with doctorate, first professional, or other terminal degree (based on full-time teaching faculty) | 66% |
Finances
| Budget (2012–13) | $220,207,974 |
| --- | --- |
| Endowment (2012–13) | $52,657,083 |
| Full-time undergraduate tuition (2013–14)* | $31,416 |
| * See apu.edu for graduate and professional tuition costs. |   |
Donation History
| 2012–13 University Fund | $2,060,781 |
| --- | --- |
| Total Donations | $8,670,343 |
Additional Information
University Fact Sheet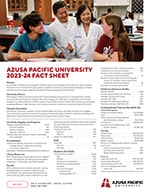 For a PDF of this information, download the University Fact Sheet (PDF), or to request a printed copy, email universityrelations@apu.edu.