Directions
Find information on parking, transportation options, and local airports near the Azusa area.
Driving Directions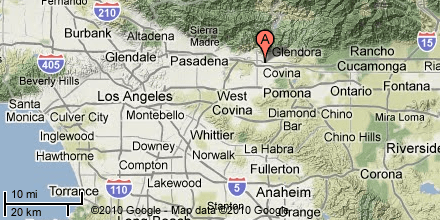 Get door-to-door directions to APU via Google Maps
Parking
To ensure the safety and convenience of our community and guests, please observe all Vehicle Code policies in addition to the parking specifications detailed on the maps below. Should you have any questions, please contact the Department of Campus Safety.
Local Airports
While APU's Azusa campus lies just 26 miles east of Los Angeles, Ontario International Airport (ONT) is the closest airport to campus, located approximately 25 minutes away.
The following airports are about an hour from main campus:
Shuttles and Car Rentals
Visitors to APU may hire shuttle vans (such as LAX FlyAway Bus, SuperShuttle, Oakmont Executive Transportation, etc.), rental cars, or taxis from local airports for a fee. For more information, consult a transportation representative at your arrival airport.
Public Transportation
Students and visitors commuting from the Los Angeles area can take public transportation to Azusa Pacific University using the Metro Gold Line, disembarking at the APU/Citrus College Station located on Citrus Avenue within walking distance of APU's East and West campuses. The APU/Citrus College Station is the final stop on the line, connecting Azusa to Pasadena and downtown Los Angeles.
Discount TAP card passes are available for students, while the regular fare for a one-way trip is $1.75.
Other public transportation options for getting to APU include: