2010
Speakers
Matt Barkley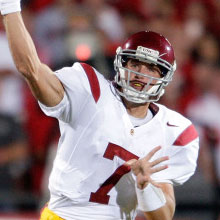 Barkley graduated a semester early from Mater Dei High School in Santa Ana and joined the University of Southern California football team as a quarterback in spring 2009. Among his many achievements, he was a Super Prep All-American in 2008, Gatorade Male High School Athlete of the Year in 2007, and Cal-Hi Sports All-State Sophomore in 2006.
At USC, he is a communication major and follows in the footsteps of his father's athletic legacy–his father lettered for four years in water polo in 1976-79. Besides playing football in high school, Barkley played guitar for his church choir and held a leadership role in the Monarchs for Marines program that raised money for families of wounded and deceased soldiers. He says that he knows he has been given so much and is responsible for giving back.
Barkley's coaches and teammates classify him as amazingly gifted in understanding the game of football and his role as quarterback. He can compete at the same level as athletes with more experience than him and can visualize plays before they are executed. Former USC Heisman Trophy-winning quarterback Matt Leinart says he is a great person both on and off the field.
April Holmes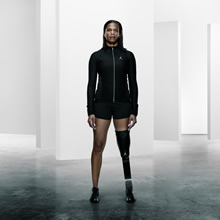 Raised with a hard work ethic, which she has honed with a will of steel, April Holmes has redefined what it means to be disabled. Through faith, dedication, consistency, and support, she has rewritten the record books, holding the world records in the 100m, 200m and 400m.
April was involved in a train accident in 2001 that resulted in the loss of her left leg below the knee. While she lay in her hospital bed, a doctor told her about the Paralympic Games and a new goal was firmly implanted in her mind.
Since her career in Paralympic track & field began in 2002, Holmes has continued to succeed, improving each and every step of the way. Her latest feat includes completing her fifth consecutive undefeated season in the 100 meters, which earned her a gold medal at the 2008 Paralympic Games in Beijing, China. Speed and quickness are her best friends as she continues to break her own world records every season. With a commanding lead over the growing field of competitors, Holmes continues to captivate track enthusiasts with her grace and style.
Off the track, Holmes runs the April Holmes Foundation, Inc., a nonprofit organization tasked with assisting people with physical and learning disabilities with scholarships and medical equipment. Having recently completed her MBA in marketing, Holmes plans to use her education to improve public awareness of persons with disabilities.
Entertainment
Rebirth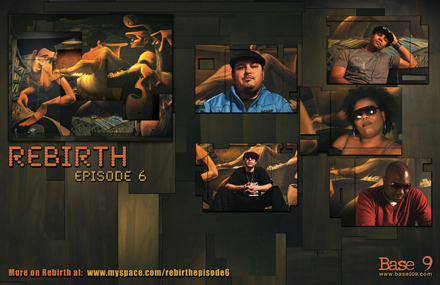 Since the beginning, the best art has come from a mix of different elements. Fusing jazz, hip hop, and old school funk, Los Angeles-based band Rebirth creates songs that appeal to wide range of music lovers. If you like music by The Roots, Alicia Keys, Angie Stone, and classic Motown, you'll love the sound of Rebirth.
Lead singer Ehmandah offers a rich and honest voice that sets the tone for the music. Gootch, former drummer and percussionist for Jon Gibson, All Together Separate, Ben Harper, and Marc Ford from the Black Crowes, delivers tight and "in the pocket" grooves. On keyboards, no other would do than "J. Michael," who has toured with many renowned R&B artists. Helping to drive the band is Zach Rudulph, whose skill on the bass gets heads bobbing on any given night. He has toured with reggae band Christafari and hip hop band Glory. Last but not least is Rebirth founder, producer, and guitarist Shane Ries (Pastor Raul Ries' son) who puts it all together.