Get Involved
Hire a Cougar
Do you have a job or internship available? Post positions for APU students and alumni through the APU Career Network.
Make a Career Connection
Would you be willing to open doors at your place of employment on behalf of APU students and alumni? We are always looking for connections at workplaces of every variety. Contact career@apu.edu to find out more about activating the APU network in this tangible way.
Mentor a Student
Join other alumni and be a discipleship mentor for an undergraduate student! Mentors of all ages, ethnicities, denominations, and career choices are needed. More information is available through the Office of the Campus Pastors.
Pray for APU
Are you a prayer warrior? We are looking for people who are passionate about lifting up our community in prayer once a month. If interested, email us at parents@apu.edu to get started.
Support Zuventurez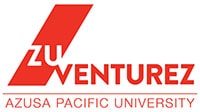 Zuventurez exists to inspire the good that can be found when today's entrepreneurs turn their focus toward Kingdom values, the pursuit of excellence, and a commitment to bottom-line sustainability. Learn more about supporting our program or joining our community of entrepreneurs and advisers.
Donate Product
We are always looking for donation items to help us raise funds for our Alumni Merit Scholarship through events such as the Homecoming Tea and Alumni Golf Tournament. New merchandise such as electronics, jewelry, sporting goods or tickets, or brand-name items help us greatly. Contact us at alumni@apu.edu to donate today!
Host a Music Group
Would your church be interested in hosting one of our music groups? The APU School of Music's bands, choirs, and ensembles travel frequently and tour during the summers. If you are interested in hosting a group, contact the School of Music at schoolofmusic@apu.edu.
Give
Donate to student scholarships today and be a part of developing difference makers in the world for Christ.