Membership
Hispanic Association of Colleges and Universities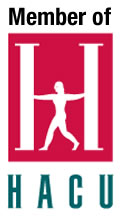 Azusa Pacific University became an associate member of the Hispanic Association of Colleges and Universities (HACU) in 2012.
HACU membership includes advocacy representation on behalf of Hispanic education; access to grants, internships, scholarships, and leadership opportunities for students attending member institutions; discounts to HACU conferences; and faculty and staff development opportunities. Membership in HACU demonstrates Azusa Pacific's desire to be a place of diverse people, ideas, thoughts, experiences, and gifts, honoring God through the celebration of His diverse creation.
What is HACU?
HACU was founded in 1986 to champion Hispanic success in higher education, and is the only national educational organization representing Hispanic-serving institutions. More than 400 colleges and universities in the U.S., Puerto Rico, Latin America, Spain, and Portugal comprise HACU's membership, and HACU's advocacy efforts with the federal government have led to more than $1.2 billion in grants targeted to member institutions since 1995.
For more information about HACU, go to the HACU website.