Meagan Wilcox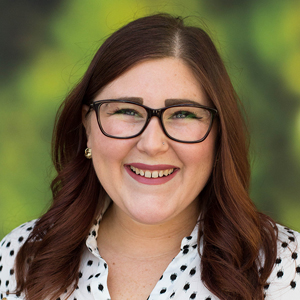 Admissions Counselor
Graduated from Abilene Christian University: 2012
Degree(s): B.S. in Psychology
Hometown: Sacramento, CA
Contact
(626) 815-3816
mwilcox@apu.edu
Recruiting Calendar
Q & A with Meagan
How has APU transformed you?

APU has really taught me the importance and value of community. I'm not only seen as an individual with unique talents and abilities, but as part of the greater whole that can come together to impact the community and the world. It has been such a blessing to be able to work alongside people who believe in me enough to appreciate who I am as a person and push me to grow and reach my potential.

Which activities at APU have you most enjoyed being a part of?

I have really enjoyed being a part of my graduate program! The bonds that I have formed with my cohort members and faculty are what get me through some of my toughest days. I have also enjoyed the different events on campus. I have friends who work in different campus offices and it has been fun to support them and learn more about how each campus office is supporting and impacting APU students.

What advice would you give to prospective students?

It is totally okay to not have everything figured out! Enjoy this process because you get to experience it only once! And when you start to freak out and worry about all the details, just remember the promise found in Joshua 1:9: "Be strong and courageous; do not be afraid, for the Lord your God will be with you wherever you go."

How do you spend your free time?

I absolutely love spending time with my friends and family, whether that is grabbing a bite to eat at a new or favorite restaurant, shopping, going to Disneyland, or exploring all that Southern California has to offer! I am also an avid reader and love crossword puzzles and listening to podcasts.