Sara Ruiz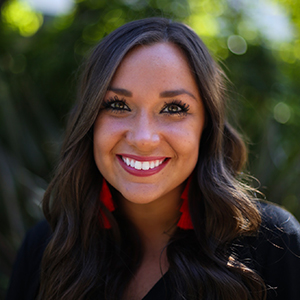 Transfer Counselor
Graduated from APU: 2016
Degree(s): B.S. in Applied Exercise Science
Hometown: Manila, Philippines
Contact
(626) 815-2011
saruiz@apu.edu
Recruiting Calendar
Q & A with Sara
How has APU transformed you?

APU has made a huge impact on my life in many ways in the short amount of time I've been here. I have been transformed not only academically, but spiritually as well. I grew up in the Philippines as a missionary kid, so moving to California to further my education was a difficult transition, and that process really stretched me as a person. Coming to APU, I was able to grow in my faith and community through friends, supervisors, coworkers, campus pastors, and professors. APU has changed my life and I am forever grateful for the person I am today because of my experience.

Which activities at APU have you most enjoyed being a part of?

I have loved being a part of ethnic organizations on campus, such as Pacific Islander Organization (PIO) and Black Student Association (BSA), and participating in events such as PIO's Luau and BSA's Expressions. I also enjoyed playing on various intramural sports teams and attending APU sporting events. As a transfer student and commuter, I found that being involved in different organizations and attending campus events were great ways to build friendships and get connected into the APU community.

What advice would you give to prospective students?

Trying to find the right college can be difficult, but I encourage you to take the time to pray throughout this transition and do your best to discern what God's plan is for you. This is an exciting time in your life; enjoy the process and don't be afraid to put yourself out there, ask questions, and have fun!

How do you spend your free time?

My free time is usually spent with friends and family, going to the beach, exploring new places, grabbing a good cup of coffee, and watching/playing sports such as volleyball, basketball, or football.