Andrew Brown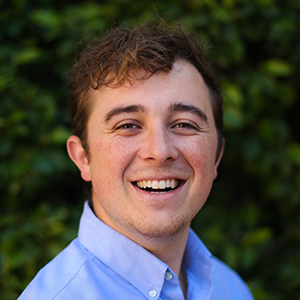 Associate Director of Freshman Recruitment
Graduated from APU: 2015
Degree: MA in English
Hometown: Stillwater, OK
Contact
abrown@apu.edu
Make an Appointment with Andrew
Q & A with Andrew
How has APU transformed you?
Wow, how has APU not transformed me? A lot of people say you go to college and change into an adult, but I believe that if you go to the right college, you aren't so much changed as much as you are deepened. The passions I've had since I was little—meeting new people, writing, reading—were each deepened through APU's academics and campus life.
Which activities at APU have you most enjoyed being a part of?
This might be an obvious answer, but I worked for three years in APU's Office of Undergraduate Admissions, and that set the stage for what I do now. I wouldn't be the professional I am now without that experience. Spiritually, leading and belonging to a D-Group throughout my time at APU was pivotal for my own growth as a Christian and as a man.
What advice would you give to prospective students?
My goal as an admissions representative is to take some of the pressure off your shoulders when you're applying. There is so much pressure to find the perfect college, and I want to remind you that God is in control and is incredibly faithful. Oh, and be sure to Google Map local coffee shops and thrift stores around your top schools—those will become essential!
How do you spend your free time?
A lot of my free time is spent writing at coffee shops or wandering around used-book stores, imagining what it would be like to have a book with my name on it someday. The rest of my free time is spent napping, watching the Oklahoma City Thunder, or eating peanut butter sandwiches.