YLI Monographs
As youth workers, we often find ourselves caring for students with complex issues that we need help addressing. YLI monographs—single-subject books—help youth workers with these situations, translating current research on complex issues facing adolescents into best practices for youth ministry.
YLI plans to create two monographs a year, to be distributed electronically. Each issue will be approximately 100 pages and contain three primary sections: the first written by a subject-matter expert summarizing trends that current research is revealing about issues facing adolescents; the second containing theological reflection and strategies for helping adolescents; and the third providing basic best practices for youth workers. We anticipate that many youth workers who are helping struggling adolescents may choose to begin at the end.
Current Issue
Spring 2018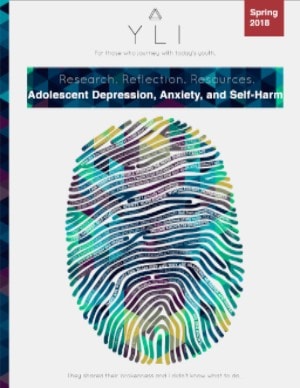 This first issue is dedicated to adolescent depression, anxiety, and self-harm, which have become bigger concerns over the past 10 years. Included are an extensive current-research summary by clinical psychologist and APU Department of Psychology chair Kathryn Ecklund, PhD; an article from family therapist and APU professor Rev. Stephen Lambert, PsyD, providing a theoretical and practical response to adolescents struggling with internalizing disorders; and resources from a focus group consisting of youth workers who have served adolescents struggling with depression, anxiety, and/or self-harm, offering insight into implications for those working with adolescents.