Research Psychology and Data Analysis, MS
Study Research Psychology and Data Analysis at Azusa Pacific University
You'll gain a competitive edge when pursuing doctoral programs and careers in psychological research: equipped with hands-on training with faculty mentors, research experiences, and a publishable manuscript. When you graduate, you'll have the research and statistical methods necessary to lead change in the field-–including training with popular statistical software. Hone your expertise even further with an optional 9-unit concentration in counseling psychology, data analytics, industrial/organizational psychology, or public health.
Program at a Glance
The School of Behavioral and Applied Sciences equips students for compassionate leadership in fields like physical therapy, social work, and psychology, guided by experienced faculty and hands-on learning.
Application Deadline
Fall Admission Deadlines

Priority: April 1

Extended: May 31

Final: July 15

Spring Admission Deadlines

Priority: October 1

Extended: November 1

Final: December 1
Program Units
36
Cost per Unit
$750
Base Cost
$27,000*
Location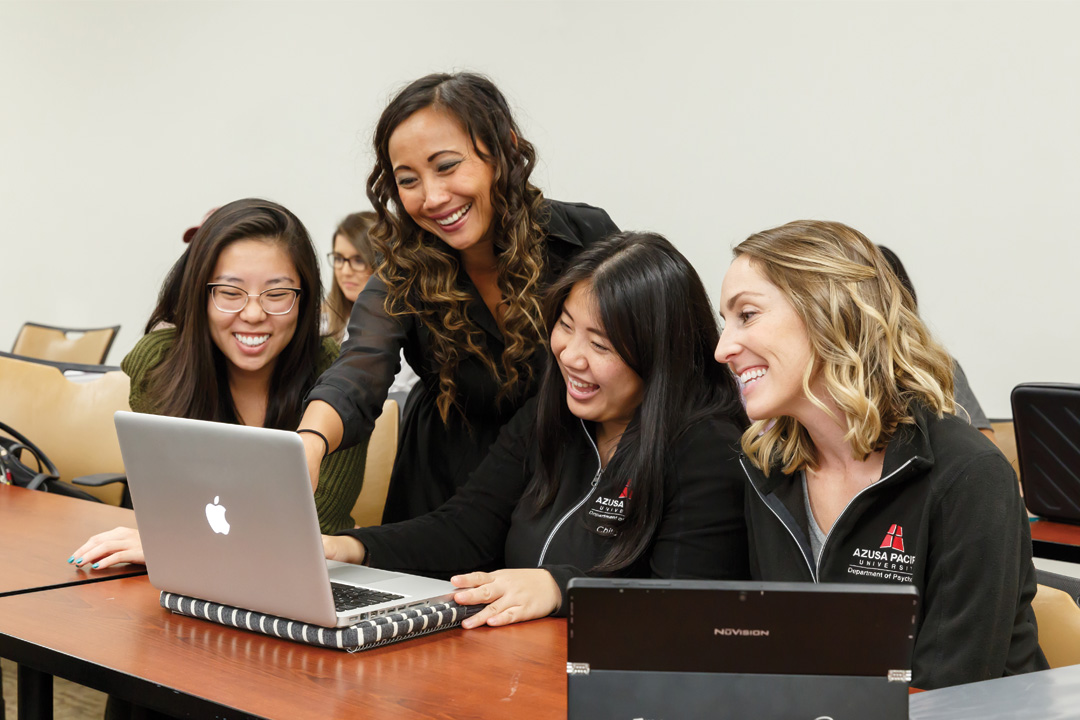 Gain Hands-on Experience
Analyze data using popular statistical software, such as SPSS, R, and JMP.

Collaborate on a publishable research manuscript with a faculty advisor.

Complete a master's thesis in your area of interest.

Showcase your skills with an optional JMP/SAS Joint Certificate in Research Methods.
1 of 126
Best Western Colleges according to Princeton Review's 2023 Best Colleges Guide
13

:1
Student-to-faculty ratio
100

%
of students receive financial aid
Program Details
The Master of Science in Research Psychology and Data Analysis provides research and statistical experience needed to be competitive for doctoral programs and pursue, or advance within, careers related to psychological research. The program consists of a rigorous 36-unit curriculum that can be completed in one academic year, 18 months, or 2 academic years.
Browse the tabs below—if you have questions, visit the Student Services Center page, and we'll make sure you get the info you need.
Admission Requirements—Domestic Applicants
The university graduate and program admission requirements below must be met before an application is considered complete.
Applicants must submit:
$45 nonrefundable application fee

Official transcripts from all institutions leading to and awarding the applicant's bachelor's degree from a regionally accredited institution and all postbaccalaureate study






An official transcript is one that Azusa Pacific University receives unopened in an envelope sealed by the former institution and that bears the official seal of the college or university. A cumulative minimum 3.0 (on a 4.0 scale) grade-point average on the posted degree is required for regular admission status. Provisional admittance may be granted to individuals with a lower GPA if competency can be shown through multiple measures.

Two letters of recommendation

Current résumé showing professional, academic, and volunteer experiences

2- to 3-page double-spaced application essay covering the following topics:

For thesis track students:

Why do you want to complete the thesis track?

A description of the specific type of research you're interested in focusing on for your thesis project.

Select 1-2 APU

program faculty

with a similar area of research for your thesis advisor in the program.

For internship track students:

Why do you want to complete the internship track?

What career do you want to pursue during this program and/or after you have graduated from this program?

A description of your areas of interest in one or more of the following: research, statistics, data analysis.

Why you're interested in APU's MS in Research Psychology and Data Analysis program.

Which track (thesis or internship track) you would like to complete and why.
Send official transcripts to:
Office of Graduate and Professional Admissions
Azusa Pacific University
PO Box 7000
Azusa, CA 91702-7000
[email protected]
What to Expect
After all admission materials have been received by the Student Services Center, the faculty or department chair reviews the applicant's file. The applicant is notified in writing of the admission decision.
Admission Requirements—International Applicants
Azusa Pacific University is authorized under federal law by the U.S. Citizen and Immigration Services and the U.S. Department of State to enroll nonimmigrant, alien undergraduate and graduate students. APU issues and administers both the I-20 and DS 2019 (F-1 and J-1 status documents respectively).
To apply for a graduate program at APU, the following requirements must be fulfilled in addition to meeting the domestic applicant and program-specific admission requirements specified above.
International applicants must also:
Demonstrate proficiency in English through a placement test with the

Academic Success Center

, or through a TOEFL/IELTS score that meets program-specific requirements. Refer to APU's

English proficiency requirements

to learn more. Request that official test scores be sent to APU. All other forms of proof indicated in the English proficiency requirements must be submitted directly to International Services.

Provide a

Graduate Affidavit of Financial Support (PDF)

and a bank statement from within the last six months proving financial ability to pay for education costs through personal, family, or sponsor resources.

Submit a copy of a valid passport showing biographical data, including your name, country of citizenship, date of birth, and other legal information.

Get foreign transcripts evaluated. International credentials (transcripts, certificates, diplomas, and degrees) must be evaluated by a foreign transcript evaluation agency. View our policy and a list of approved

Foreign Transcript Evaluation Agencies

.
Send official transcripts to:
Office of Graduate and Professional Admissions
Azusa Pacific University
PO Box 7000
Azusa, CA 91702-7000
[email protected]
What to Expect
After all admission materials have been received by the Student Services Center, the faculty or department chair reviews the applicant's file. The applicant is notified in writing of the admission decision.
Tuition and Fees

| | |
| --- | --- |
| | Cost |
| Research Psychology and Data Analysis, MS | $750 |
| MS in Research Psychology Lab Fee (per each lab course) | $50 |
View a complete list of university fees.
All stated financial information is subject to change. Contact the Student Services Center at (626) 815-2020 for more information.
Financial Aid
Several types of financial aid are available to graduate students. The resources range from federal loans and state grants to, for some graduate programs, fellowships and scholarships. For details about financial aid available for your program, please contact the Student Services Center at (626) 815-2020.
Military Benefits
Military members—and in some cases their spouses and dependents—qualify for financial assistance covering tuition, housing, and books. Azusa Pacific is a Yellow Ribbon University and Military Friendly School, so you can be confident that you'll receive the benefits and flexibility you need to complete your education.
Program-Specific Aid
APU also provides information on numerous financial aid options for prospective School of Behavioral and Applied Sciences students. Learn more about the program-specific aid available.
Graduate Teaching Assistantships
Students can apply for Graduate Teaching Assistantship positions to work alongside faculty in evaluating student work, administering courses, providing assistance in research experience labs, and gaining opportunities for teaching, if desired. These positions can fund up to $4,000 toward tuition. Email [email protected] to learn more.
School of Behavioral and Applied Sciences Alumni Tuition Discounts
APU's School of Behavioral and Applied Sciences (BAS) offers an alumni tuition discount for APU alumni starting in the following graduate programs:
Students must be in good academic standing and maintain satisfactory academic progress with a minimum cumulative grade-point average (GPA) of 3.0. Students must be enrolled at least half-time. If qualifications are met, the discount may be renewed each term. APU will pay $500 per term (up to $2,000 over the course of the program). This discount cannot be combined with other institutional aid. Contact Student Financial Services for complete eligibility details.
Note: Award and eligibility are applicable for the 2022-23 academic year and apply to students admitted beginning fall 2020. The discount is subject to change.
To view specific requirements and coursework information, visit the current academic catalog:

Who is This Program For?
This program is best suited for students bound for either PhD programs or employment in a research-related career.
PhD programs can be extremely competitive. Undergraduate students are often not accepted because they do not have the necessary research experience, GPA, or statistics background. This program helps students gain the necessary research experience, data analysis skills, and confidence to pursue their goal of earning a doctorate.
With only an undergraduate degree, pursuing a research-related career in psychology can be difficult. Employers expect new hires to be comfortable conducting research and analyzing data. With an MS in Research Psychology and Data Analysis, you gain the necessary experience in research and data analysis to separate yourself from the pack.
How Long Does This Program Take?
This 36-unit program can be completed in 11, 18, or 24 months, depending on the chosen track. If desired, students can add a concentration of 9 additional units that will add to the completion time for 11-month students; because of this, concentrations are recommended only for students on an 18- or 24-month track, or 11-month students willing to extend their time in the program. With the support of a faculty advisor, students are expected to balance their coursework with progress toward completion of a master's thesis.
What Optional Concentrations are Offered?
The following optional concentrations are available:
Counseling Psychology Concentration
This concentration combines an emphasis on evidence-based research with extensive clinical training, preparing students to work with children and adolescents using a wide scope of practice, and considering their development physically, psychologically, and socially.
View counseling psychology concentration coursework
Data Analytics Concentration
Students in this concentration learn statistical and data visualization techniques. Coursework develops students' skill in statistical programming, including R and SAS, data visualization using Tableau, and data mining, preparing students to pursue careers in business and/or data analytics.
View data analytics concentration coursework
Industrial/Organizational Psychology Concentration
Organizational psychology, often called industrial/organizational (I/O) psychology, considers the attitudes, feelings, and behaviors of people in the workplace. In this concentration at the intersection of business and psychology, coursework equips students to diagnose organizational health; develop and implement change initiatives; administer and create job satisfaction surveys; increase employee morale and expand retention strategies; advance performance management programs; hire, train, and develop talent; and advise, coach, and build successful teams.
View I/O psychology concentration coursework
Marketing Research Concentration
This concentration equips students with conceptual and applied knowledge of marketing processes and the evaluation of products, services, and consumer behavior. Coursework introduces marketing strategy, and students learn to apply quantitative research methods and data analysis techniques within business and marketing contexts, using relevant marketing terminology and statistical software. Such market research skills are in high demand and prepare students to pursue applied psychology careers related to marketing.
View marketing research concentration coursework
Note: The cost per unit for the concentration is based on the cost of the concentration courses, and may be different from the per-unit cost for the MS in Research Psychology and Data Analysis.
Can I Add a Concentration after I Have Been Admitted?
This is not a problem, and we encourage students to do so. You will just need to submit a Graduate Admissions Change of Program Form (PDF) through the Department of Psychology.
Note: Adding a concentration may increase the length of time in the program. Students should be aware of the additional 9-unit workload of the concentration, and that the restrictions of course offerings may impact the time it takes to complete the program.
How Many Units Do I Take at a Time?
Depending on the length of track the student chooses, students take 3-7 units every 8-week term.
What Am I Getting From This Program?
You will benefit from a mentorship model where you learn to master research methods, data analysis, and writing skills—key skills necessary for a research psychology career or pursuing a PhD You will also gain valuable skills in SPSS, SAS, and R that will make you competitive for doctoral programs and research careers. These skills are reflected in every course you take and during weekly one-on-one meetings with your thesis advisor.
What Courses Will I Take?
Coursework includes, in part: Experimental Research Methods, Non-experimental Research Methods, Theory Research and Practice in Psychology, Analysis of Variance, Regression, Psychometrics: Assessment and Measurement, Program Evaluation, and Statistical Labs. View the full list of courses.
How Long is a Term?
Each term is 8 weeks. There are two 8-week terms per semester.
How Many Evenings Will I Be on Campus?
Classes are held 1-2 evenings a week. Time and duration of each class varies with your chosen track.
How Long Are the Classes?
Each class runs approximately 4 hours, in addition to outside classwork to prepare you for class.
Can I Work While Completing the Program?
Many students decide to work throughout the program. However, it is up to you to balance outside work with program requirements. If you are enrolled in the 11-month track, we recommend working no more than 20 hours per week. The 18- and 24-month tracks are amenable to full-time employment. If you plan on working during the program, you're encouraged to consult with your faculty advisor because certain thesis projects may require more time commitment.
How Do I Choose a Faculty Thesis Advisor?
You will choose their faculty thesis advisor based on area of interest. View our program faculty and see who has expertise in your area of interest. If you would like guidance in selecting a faculty thesis advisor, please contact the department for further assistance.
What Type of Research Can I Do?
Our 22 full-time faculty have expertise in a many different areas (e.g., social, cultural, clinical, educational, cognitive, neuro, developmental, quantitative, substance abuse) and in many different types of research methodology (e.g., eye-tracking, facial recognition, focus groups, survey design, physiological measures).
What Do We Do in Lab Courses?
The lab courses are designed to give you a hands-on opportunity to apply your statistical knowledge using popular statistical software (e.g., SPSS, SAS, and R). Labs are integrated with, and supplemental to, seminar-style courses. Labs are required to be taken during the same semester as the lecture portion of the class.
What Kind of Research Will I Conduct During This Program?
Your thesis is entirely up to you! Each area of psychology and faculty advisor asks different research questions, and uses different methodology, depending on their area of expertise. Your thesis may be a continuation or adaptation of the faculty advisor's ongoing research or it may be an independent project related to their area of expertise. During the program, you'll collaborate with your advisor via 12 units of coursework (allocated as thesis research units), culminating in a thesis project.
APU's MS in Research Psychology and Data Analysis program offers a highly accessible and comprehensive distance learning option, allowing you to earn your degree in a flexible environment without sacrificing the high-quality instruction and professor-student interaction for which APU is known.
What is Distance Learning?
Distance learning courses are different from traditional online courses in that students join a live face-to-face course remotely through online video technology. You experience the lectures and in-class discussions, and are able to ask questions of the professor, all in real time. This platform allows us to offer the program to those who do not live in the area, and allows you to be part of the classroom and cohort.
For more information about the distance learning option, contact Jacquelyn Babikian at [email protected].
Distance Learning Policy
Students interested in applying for the distance learning modality are encouraged to review the distance learning policy.
If you have questions, we're here to help! Connect with a representative who can walk you through the program details and application process.
Contact Your Admissions Representative
Additional Program Contact
Julianne Edwards, PhD, program director, [email protected], (626) 857-2236
Department of Psychology
Phone
(626) 815-6000, Ext. 2420
Mail
Department of Psychology
Azusa Pacific University
PO Box 7000
Azusa, CA 91702-7000
Hours
Monday-Friday, 8:30 a.m.-4:30 p.m.
Student Services Center
Contact (626) 812-3016 or [email protected], and visit apu.edu/ssc for details on the admissions process, financial aid, and class registration.
International Services
International students should contact +1-626-812-3055 or [email protected], and visit apu.edu/international/.
Azusa Pacific University is accredited by the WASC Senior College and University Commission (WSCUC).
Career Outlook and Outcomes
Career Paths for Psychology Majors to Consider
Learn more about the career options available to psychology majors, whether you earn an undergraduate degree or go on to pursue a graduate degree.
Note: This information is current for the 2023-24 academic year; however, all stated academic information is subject to change. Please refer to the current
Academic Catalog
for more information.
*Base Cost (cost per unit x program units) is provided to aid in program comparison only.
All stated financial information is subject to change. View Tuition tab above.