Our History
More Than 100 Years of God First—Azusa Pacific's History
God First since 1899. More than a century later, Azusa Pacific remains committed to the vision on which it was founded—preparing disciples and scholars to go out and make a difference in the world for Christ.
Modest Beginnings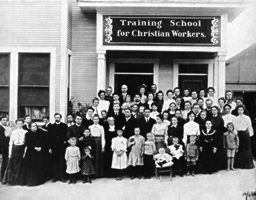 Azusa Pacific University, one of the largest Christian universities in the nation today, began on March 3, 1899, when a group of women and men passionate about creating a place for Christian education gathered to form the Training School for Christian Workers. It became the first Bible college on the West Coast geared toward preparing men and women for ministry and service. Meeting in a modest home in Whittier, California, and led by President Mary A. Hill, the school grew to an enrollment of 12 in its first term.
The early years of growth saw the school relocate and change leadership several times. Then, following mergers with three Southern California colleges, the university relocated in 1946 to the city of Azusa, where it resides today.
Leading the Way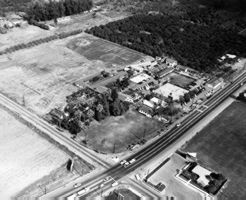 The mergers and early growth of the university brought great strides, as well as great challenges, and yet the focus on the school's core vision never wavered.
In 1939, Cornelius P. Haggard, ThD, became the school's 13th president. Among his many accomplishments, Haggard launched a variety of innovative fundraising efforts, including the annual Dinner Rally that continues today. He traveled the U.S. to raise resources for the school, trusting God would provide to meet the university's needs. Haggard served for the next 36 years, achieving many significant milestones along the way.
After Haggard's death, Paul E. Sago, PhD, became president, serving until 1989. Among his many accomplishments, Sago encouraged the development and growth of off-site educational regional campuses throughout Southern California, and presided over the addition of master's degree programs and the development of schools within the university.
Richard E. Felix, PhD, became president in 1990. Felix played an instrumental role in initiating the university's first doctoral programs. He also reframed the university's values as Four Cornerstones—Christ, Scholarship, Community, and Service—and oversaw the construction of seven new buildings, a doubling of student enrollment, and the quadrupling of graduate programs.
In 2000, Jon R. Wallace, DBA, an Azusa Pacific alumnus, assumed the role of president. Wallace served the university for a total of 43 years, including 19 as president. Known for his passion, energy, and connection with the campus community, he led the university through a period of growth, focusing on providing meaningful, transformational scholarship. Under his leadership, the university expanded its graduate program offerings; added new study away opportunities, including the South Africa campus; and completed several new buildings, including the $54 million Segerstrom Science Center.
Looking to the Future
In April 2019, Paul W. Ferguson, PhD, DABT, was named the 17th president of Azusa Pacific University. Ferguson arrived with a distinguished record of achievement as a scholar and leader both in public and private education, having served as president of Ball State University and the University of Maine. Prior to APU, he was the founding dean of the School of Science, Technology, and Health at Biola University. President Ferguson led APU through the development and implementation of a comprehensive, consensus-based seven-year Strategic Plan, Renewal: Strengthening Our Capacity for Cultivating Christ-Centered Scholars and Leaders. The plan seeks to solidify long-term financial sustainability, organizational effectiveness, relevant academic programming, and robust employee professional development while confirming APU's place as a leading Christian university providing inclusive academic excellence. President Ferguson engaged the APU community with a diverse leadership team committed to building strong collaborative relationships; increasing institutional fiscal stability and accountability; and providing steady guidance of the university through the first years of the COVID-19 pandemic. Under his thoughtful leadership, the university community transitioned to mandated remote learning while balancing institutional fiscal discipline and community care, enabling a safe, strategic return to campus in Fall 2021.
Andrew Barton, EdD, vice president for strategic planning and mission integration, was named interim president, effective November 5, 2021, following President Ferguson's retirement. As he approaches this season and stewards the role, Barton will advance APU's Christ-centered mission to develop disciples and scholars, drawing upon the university's rich 120-plus-year-old God First legacy, as the university continues a national search for its 18th president.
A Leader in Christian Higher Education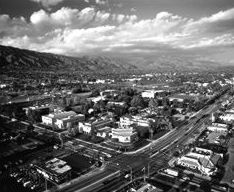 Today, APU offers 68 bachelor's degrees, 48 master's degrees, 18 certificates, 10 credentials, and 9 doctoral programs at the university's main campus in Azusa, seven regional locations, and online. The university holds accreditation from the WASC Senior College and University Commission as well as 14 other specialized accreditations.
The university's award-winning intercollegiate athletics program consists of 19 teams. Before becoming a member of the National Collegiate Athletic Association (NCAA) Division II in fall 2012, Cougar Athletics won an unprecedented eight consecutive National Association of Intercollegiate Athletics (NAIA) Directors' Cup awards. APU also belongs to the Pacific West Conference in all sports except for football, which belongs to the Great Northwest Athletic Conference (GNAC); women's water polo, which belongs to the Golden Coast Conference (GCC); women's swimming and diving, which belongs to the Pacific Collegiate Swim and Dive Conference (PCSC); and women's acrobatics and tumbling, which belongs to the National Collegiate Acrobatics & Tumbling Association (NCATA).
Through all this, Azusa Pacific continues advancing its core mission, preparing and graduating students who go on to make a difference in the lives of others. Learn more by watching the stories of alumni like these as they carry on that tradition while inspiring future generations.
University Presidents

| Term | Name |
| --- | --- |
| 1900-01 | Mary A. Hill |
| 1901-03 | Anna Draper |
| 1903-04 | Bertha Pinkham Dixon |
| 1904-09 | Matilda Atkinson |
| 1909-19 | William P. Pinkham |
| 1919-23 | Eli Reece |
| 1923-24 | Lowell H. Coate |
| 1924-27 | George A. McLaughlin |
| 1927-31 | Ray L. Carter |
| 1931-36 | David H. Scott |
| 1936-37 | B.C. Johnson |
| 1937-39 | William Kirby |
| 1939-75 | Cornelius P. Haggard |
| 1976-89 | Paul E. Sago |
| 1990-2000 | Richard E. Felix |
| 2000-19 | Jon R. Wallace |
| 2019-21 | Paul W. Ferguson |
Learn More