Office of Undergraduate Admissions
Have You Completed Your FAFSA?

Here's all the information you need to complete your application.

Get Started

You Belong Here

Community defines the APU experience. See for yourself.

Watch Now
Join a Community of Difference Makers
If you're interested in being part of a community of disciples and scholars who desire a transformational education experience—one that develops you academically and personally to become your best self, equipped to make a difference in the world—we invite you to consider Azusa Pacific University.
Get to know us, check out our majors, visit campus, and find out if APU is the next step in your education journey.
Meet Future Difference Makers
Denney Premkumar '23
Denney emphasizes that music education is not about the self, but about service to others. As president of Men's Chorale, he follows Christ's example, encouraging compassion and community through action.
Karla Consuelo Alejandro Meza '22, MS '23
Karla uses her psychology degree and experiences from the leadership roles she held on campus to follow God's call and lead in ways that help amplify the voices of others.
Meet more APU students, alumni, and faculty, and watch their stories!
Get to Know APU
Don't take our word for it—experience APU for yourself! It's the best way to find out if a college is a good fit for you. Discover the APU difference by attending a virtual event, exploring our 360° campus experience, and hearing stories from recent APU grads.
Explore APU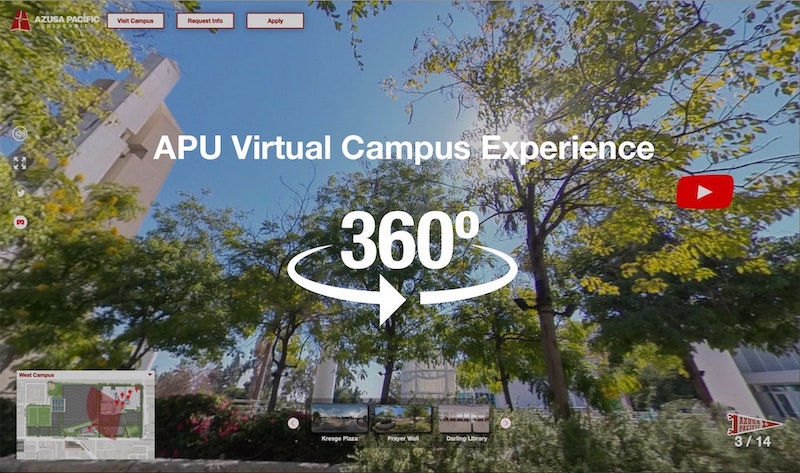 Three Ways to Help Make College More Affordable
Did you know that 100% of APU students receive financial aid, including:
Scholarships
Grants
Loans
Many options exist to help support paying for college, including APU scholarships. We want to help you put a meaningful education experience within your reach. Let us know how we can help you navigate the process and discover what financial aid is available for you.
View Tuition and Financial Aid
We Want to Hear from You
Let us know what questions you have! Our admissions team is here to help.
(626) 812-3016
admissions@apu.edu
Resources for Navigating College