Honors Humanities Minor
Earn an Honors Humanities Minor at Azusa Pacific University
You'll complete the Honors Humanities minor and become a worthy leader, grow in virtue, and deepen your faith. If you are unable to complete the Honors Humanities major, this minor is an alternative way to join an Honors College whose aim is to liberally educate the next generation of high-achieving, academically motivated Christian leaders, disciples, citizens, and scholars.

This minor fulfills a portion of the APU General Education program.
Program at a Glance
The School of Business and Management cultivates students' skills, faith, and character to become business leaders who inspire change.
Program Units
30
Location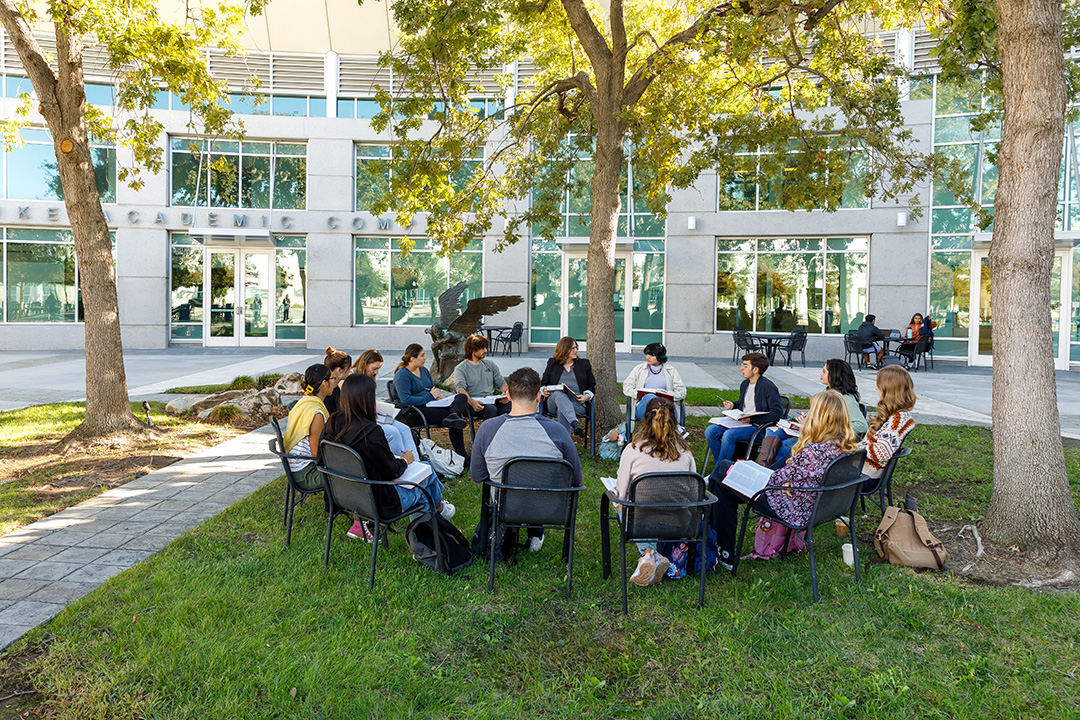 Gain Hands-on Experience
Experience in-depth learning in small, discussion-based, intellectually stimulating classes.

Study the humanities in a unique close-knit community alongside a second major of your choice.

Explore a storehouse of wisdom from great books in reading- and writing-intensive courses with no exams.

Refine skills essential in all vocational pursuits: reading, writing, listening, arguing, public speaking, teamwork.
1 of 126
Best Western Colleges according to Princeton Review's 2023 Best Colleges Guide
350
academically-motivated and engaged fellow students
12-15
closely-knit students in each discussion group
Angela Pham '19 is an honors humanities and economics double major with a concentration in international development. Hear how her research empowered her to dig deeper into her passions.
Program Details
Study and discuss the great works of literature, philosophy, art, music, science, and theology in this Honors College program option.
Browse the tabs below—if you have questions, visit the Student Services Center page, and we'll make sure you get the info you need.
The Honors College at Azusa Pacific University is a tight-knit community of scholars grappling with life's most important questions. It is a highly selective program, attracting students from among the top 10 percent of high school graduates. Students interested in joining the Honors College community are invited to complete the application at the bottom of this page.
Admission Requirements
Students who have a high school grade-point average (GPA) of 3.8 or higher are strongly encouraged to apply. Applicants are not required to submit test scores for Fall 2024, but if applicants are able to submit test scores, they are encouraged to do so—on average, students accepted into the Honors College have a weighted GPA of 4.2 and an SAT score of 1320, ACT of 29, or CLT of 86.
For priority consideration, applications must be submitted by November 15, 2023, at 11:59 p.m. Applications will be accepted until the regular decision deadline of February 15, 2024; after this deadline, applications will be considered based on available space.
Application Requirements
The Honors College application requires the following additional materials, which should be prepared before starting the form at the bottom of this page. Note: Only students who have applied for general admission to Azusa Pacific University will be considered for admission to the Honors College.
Names and email addresses for two academic references
A writing sample of approximately 500 words (two pages), which may be (1) an essay written for a high school class, or (2) a response to the following prompt:


Abigail Adams wrote, "These are the times in which a genius would wish to live. It is not in the still calm of life, or the repose of a pacific station, that great characters are formed. The habits of a vigorous mind are formed in contending with difficulties. Great necessities call out great virtues."

Write an essay in which you explore Abigail Adams' contention that hard times are ideal for shaping good character. Recount how that observation might apply to you and to challenges of our time.

The essay should be typed and submitted as a .doc or .pdf file. The text should be double spaced with one-inch margins on all sides. The preferred font size is 10- or 12-point. Essays should not exceed three pages. Essays will be evaluated based on thoughtfulness and clarity of written expression.

A Note to Trustees' Scholarship Applicants

If you are a Trustees' Scholarship applicant, your Honors College application is simplified and will not require you to submit another essay or additional references.
Online Application
The Honors College online application cannot be saved, so please be prepared to finish the entire application at one time.
To view specific requirements and coursework information, visit the current academic catalog:
Azusa Pacific University is accredited by the WASC Senior College and University Commission (WSCUC).
Career Outlooks and Outcomes
The Freshmen Honors Experience: Transforming Together
A group of freshmen reflect on how they've been transformed throughout their first semester in the Honors College, sharing what they've learned from great texts and how they've grown closer together.
Note: This information is current for the 2023-24 academic year; however, all stated academic information is subject to change. Please refer to the current
Academic Catalog
for more information.