Earn a Master of Divinity (MDiv) at Azusa Pacific University
You'll graduate with on-site internship experience, as well as foundational theological and ministerial training—prepared to transform the world with Christ. Through rigorous coursework taught by experienced faculty and ongoing supervised ministry, you will be equipped for professional ministry in the Church. Pursue your unique calling with optional emphasis in Biblical Studies, Korean, and Spanish, as well English.
Program at a Glance
Azusa Pacific Seminary provides advanced preparation for practical ministry, graduating leaders committed to transforming the world for Christ.
Application Deadline
The admission requirements for your MDiv will vary depending upon your status as a domestic or international applicant.
Program Units
74
Cost per Unit
$569
Base Cost
$42,106*
Location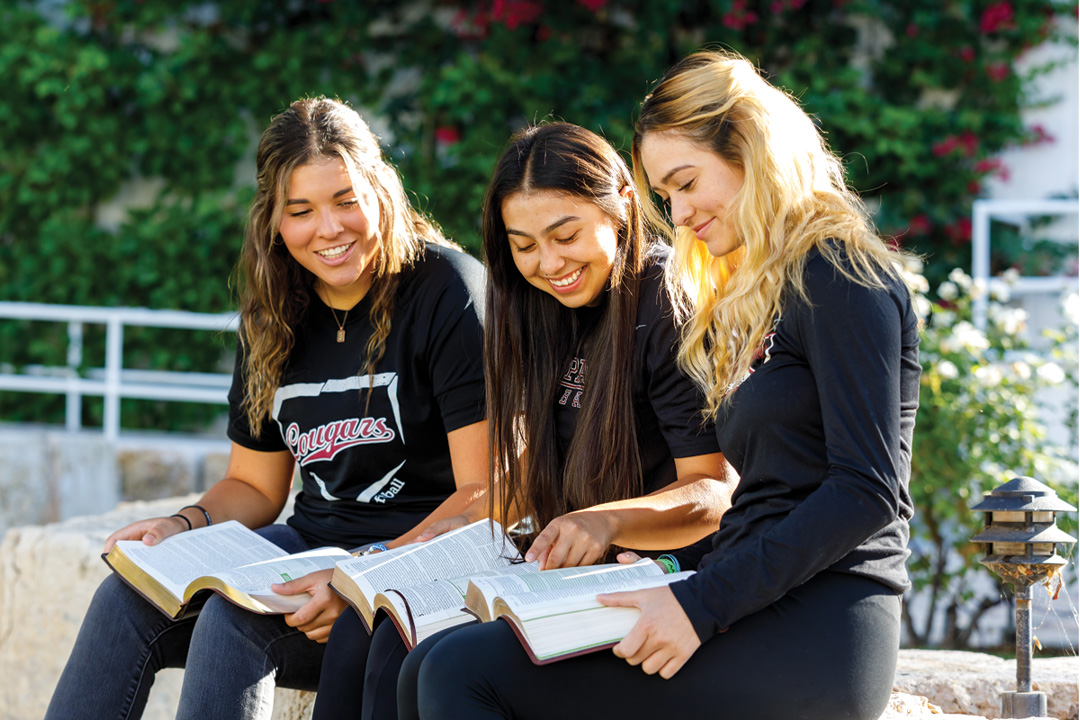 Gain Hands-on Experience
Earn the recognized theology degree for ordination.

Develop foundational understanding of theological study topics, including language, ministry, and ethics.

Learn to navigate the complexities of pastoral work through on-site internships.

Build transformational mentoring relationships with experienced faculty.

Broaden your global awareness of the Church and its ministry.
1 of 126
Best Western Colleges according to Princeton Review's 2023 Best Colleges Guide
20

:1
Student-to-faculty ratio
#8
on the 2023 Most Well Attended Bible Majors in California ranking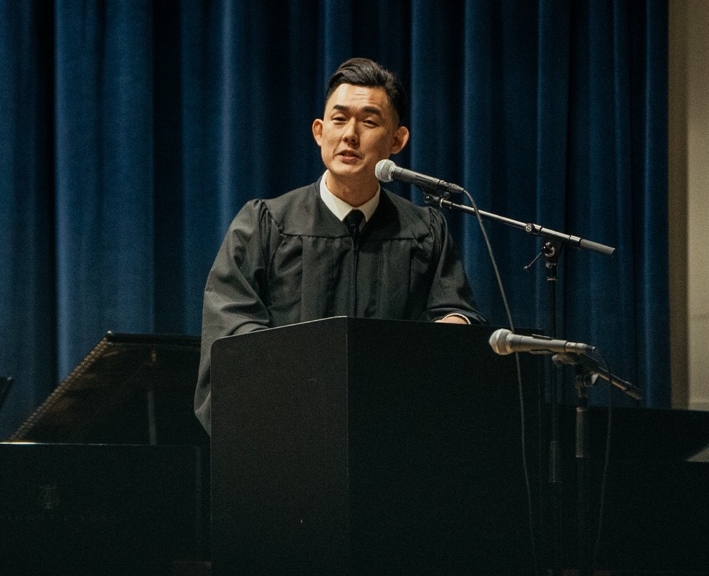 Ezekiel Hong: A Trilingual Journey of Faith
Ezekiel Hong, MDiv '22 overcame hardship and experienced God's transformative power in his trilingual journey of faith.
Program Details
The Master of Divinity (MDiv) program prepares women and men for professional ministry in the Church. Azusa Pacific Seminary faculty bring to the program a unique combination of the highest academic credentials and extensive ministerial experience.
Browse the tabs below—if you have questions, visit the Student Services Center page, and we'll make sure you get the info you need.
Admission Requirements—Domestic Applicants
The university graduate and program admission requirements below must be met before an application is considered complete.
Applicants must possess:
Bachelor's degree from a regionally accredited college or university.




Note: A limited number of students who do not have bachelor's degrees but have extensive ministerial experience may be considered for admission. For a description of the standards governing this exception, contact the dean of the School of Theology. Students admitted under this exception must obtain a

B

or better in their first 12 units of coursework.

Minimum 3.0 GPA on a 4.0 scale. Applicants with a GPA between 2.5–2.99 may be considered for provisional admission.
Applicants must submit:
$45 nonrefundable application fee

Official transcripts from all institutions leading to and awarding the applicant's bachelor's degree from a regionally accredited institution and all postbaccalaureate study






An official transcript is one that Azusa Pacific University receives unopened in an envelope sealed by the former institution and that bears the official seal of the college or university. A cumulative minimum 3.0 (on a 4.0 scale) grade-point average on the posted degree is required for regular admission status. Provisional admittance may be granted to individuals with a lower GPA if competency can be shown through multiple measures.

Two letters of recommendation: one pastoral or ministry reference, and one academic or professional reference

Calling statement: In an essay of 500 words or less, address the following: your conversion to Christ and continued commitment to Him as your Lord, your sense of calling to Christian ministry, and how a seminary education will help you take the next step in response to the call.
Send official transcripts to:
Office of Graduate and Professional Admissions
Azusa Pacific University
PO Box 7000
Azusa, CA 91702-7000
[email protected]
What to Expect
After the information has been reviewed by the Admissions Committee, the candidate is notified of the committee's decision. An academic counseling appointment with Azusa Pacific Seminary faculty is required prior to registration for classes.
Admission Requirements—International Applicants
Azusa Pacific University is authorized under federal law by the U.S. Citizen and Immigration Services and the U.S. Department of State to enroll nonimmigrant, alien undergraduate and graduate students. APU issues and administers both the I-20 and DS 2019 (F-1 and J-1 status documents respectively).
To apply for a graduate program at APU, the following requirements must be fulfilled in addition to meeting the domestic applicant and program-specific admission requirements specified above.
International applicants must also:
Demonstrate proficiency in English through a placement test with the

Academic Success Center

, or through a TOEFL/IELTS score that meets program-specific requirements. Refer to APU's

English proficiency requirements

to learn more. Request that official test scores be sent to APU. All other forms of proof indicated in the English proficiency requirements must be submitted directly to International Services.

Provide a

Graduate Affidavit of Financial Support (PDF)

and a bank statement from within the last six months proving financial ability to pay for education costs through personal, family, or sponsor resources.

Submit a copy of a valid passport showing biographical data, including your name, country of citizenship, date of birth, and other legal information.

Get foreign transcripts evaluated. International credentials (transcripts, certificates, diplomas, and degrees) must be evaluated by a foreign transcript evaluation agency. View our policy and a list of approved

Foreign Transcript Evaluation Agencies

.
Send official transcripts to:
Office of Graduate and Professional Admissions
Azusa Pacific University
PO Box 7000
Azusa, CA 91702-7000
[email protected]
What to Expect
After all admission materials have been received by the Student Services Center, the faculty or department chair reviews the applicant's file. The applicant is notified in writing of the admission decision.
Multiple financial aid options are available to make your MDiv affordable.
Delivering high-quality graduate programs takes a comprehensive support system. Your investment in an advanced degree includes those services and personnel that partner with you in pursuit of higher education. Below is a detailed breakdown of the fees associated with the benefits and services included in your degree program.
Azusa Pacific Seminary Fees
Tuition and Fees

| | |
| --- | --- |
| | Cost |
| Theology Master's Degree Programs (per unit) | $569 |
| Doctor of Ministry (DMin) (per unit) | $569 |
| Audit (per unit) | half-price tuition |
| Doctor of Ministry (DMin) Continuation Fee (per course GDMN 792) | $1,134 |
| Graduate Biblical Language Software Package Fee (GBBL 511 only) | $375 |
| Graduate Biblical Language Software Package Fee (Spanish; GBBL 511 only) | $335 |
| Backpacking Trip Fee (per course GTHE 625) | $140 |
View a complete list of university fees.
All stated financial information is subject to change. Contact the Student Services Center at (626) 815-2020 for more information.
Financial Aid
Several types of financial aid are available to graduate students. The resources range from federal loans and state grants to, for some graduate programs, fellowships and scholarships. For details about financial aid available for your program, please contact the Student Services Center at (626) 815-2020.
Military Benefits
Military members—and in some cases their spouses and dependents—qualify for financial assistance covering tuition, housing, and books. Azusa Pacific is a Yellow Ribbon University and Military Friendly School, so you can be confident that you'll receive the benefits and flexibility you need to complete your education.
Alumni Tuition Discount
Azusa Pacific Seminary offers an alumni tuition discount for APU alumni who will start in the following programs:
Students must be in good academic standing and maintain satisfactory academic progress with a minimum cumulative grade-point average (GPA) of 3.0 (2.7 for the MDiv and MAPS programs). Students must be enrolled at least half-time. If qualifications are met, the discount may be renewed each term. APU will pay $500 per term (up to $2,000 over the course of the program). This discount cannot be combined with other institutional aid. Contact Student Financial Services for complete eligibility details.
Note: Award and eligibility are applicable for the 2022-23 academic year and apply to students admitted beginning fall 2020. The discount is subject to change.
Other Seminary Financial Assistance
Azusa Pacific Seminary students are also encouraged to explore the Wesleyan Holiness Connection Discount, the Pastoral Scholarship, the Campus Ministry Internship and Scholarship Program, and Friends Center scholarships.
To view specific requirements and coursework information, visit the current academic catalog:
Biblical Languages
Master of Divinity (MDiv) students are required to obtain competence in at least one biblical language for use as an exegetical tool in the study of the Bible. This requirement may be met by the course GBBL 500 (Elements of Greek Exegesis); by transcript evidence of one year of biblical Greek or Hebrew at the undergraduate level; or by taking GBBL 510 and GBBL 520, or GBBL 530 and GBBL 540.
It is strongly recommended, however, that students who anticipate further graduate study in theology complete a full-year course in biblical Greek and/or Hebrew. To obtain full benefit from courses in biblical studies, students should enroll in the biblical language course, as well as in GBBL 511 (Seminar in Biblical Interpretation), as early as possible in their academic program.
Experiential Learning
Azusa Pacific Seminary utilizes an experiential learning model. The MDiv program intentionally integrates biblical, theological, and ministerial studies with ministerial practice. Mentored Ministry, the central component of the program, facilitates the integration of academic learning and experience in ministry. Students are required to devote at least eight hours per week to some form of supervised ministry for the duration of their master's degree program.
Class Schedule
Azusa Pacific Seminary conducts a year-round schedule, with programs adhering to 16-week terms.
Classroom experience is in concentrated sessions during two-week residency periods held each January and June. Students benefit from personal attention and opportunities to build meaningful relationships with professors and peers who have diversified ministerial experience.
Online Courses
Azusa Pacific Seminary offers many courses online. Maximum enrollment in each online course is 20 students; enrollment is granted on a first-come, first-served basis. No more than 50 percent of an Azusa Pacific Seminary degree may be taken in online courses.
Advanced Standing
MDiv students may petition for up to 15 units of Advanced Standing from upper-division undergraduate work in religion.
The number of core courses that may be replaced by Advanced Standing is limited to two.
Prior to formal admission, the Request for Advanced Standing Petition form should be completed.
All Advanced Standing examinations are administered in a proctored setting.
Students must pass examinations for Advanced Standing within 12 months of their admission date. The cost for the exam is $50 per unit. If the student passes the exam(s), he/she will not be required to pay full tuition for those units.
A student may repeat Advanced Standing examinations one time without further charge.
Courses in which a grade of

B-

or lower was earned may not be used for Advanced Standing.
Students admitted under the exceptional category may not petition for Advanced Standing units.
Undergraduate work must be from an accredited college or university.
Transfer Units
A student may petition to transfer in up to 60 units for the MDiv, less any Advanced Standing units (e.g., 38 units transfer and 22 units Advanced Standing, or any other combination totaling 60 units), from other regionally or ATS-accredited graduate degree programs. Units transferred are limited to one half of an earned master's degree. A minimum of 30 units for the MDiv must be completed at Azusa Pacific Seminary.
Advancement to Candidacy
In order for students to progress beyond the initial courses of the master's degree program, they must be granted candidacy. Candidacy is granted by faculty approval upon the satisfactory completion of 16 units of coursework with a minimum 2.7 grade-point average (3.0 is required for the MA(TS) degree), and evaluation of each student's personal growth and commitment to the mission and goals of Azusa Pacific Seminary.
Visiting Student Status
Azusa Pacific Seminary has visiting student agreements with Fuller Theological Seminary and Claremont School of Theology. Students may contact Azusa Pacific Seminary for additional information at (626) 815-6000, Ext. 5654.
Frequently Asked Questions
How many units do I take each term?
While there are no minimum or maximum unit requirements, 8 units is considered a full-time schedule.
How many evenings per week do I attend classes?
Classes usually meet once a week, but some are offered twice a week.
How many hours does each class session require?
Once-a-week classes last for 4 hours and 15 minutes, and twice-a-week classes run for 2 hours each.
How many students will there be in my classes?
Most classes average 15-18 students.
If you have questions, we're here to help! Connect with a representative who can walk you through the program details and application process.
Contact Your Admissions Representative
Additional Program Contact
Barbara Hayes, Program Coordinator, [email protected], (626) 815-5447
Yanina Espinoza, Program Coordinator, [email protected], (626) 815-5448
Linda Pyun, PhD, Program Coordinator, [email protected], (626) 815-2210
Azusa Pacific Seminary
Mail
Azusa Pacific Seminary
Azusa Pacific University
PO Box 7000
Azusa, CA 91702-7000
Hours
Monday-Friday, 9 a.m.-5 p.m.
Student Services Center
Contact (626) 812-3016 or [email protected], and visit apu.edu/ssc for details on the admissions process, financial aid, and class registration.
International Services
International students should contact +1-626-812-3055 or [email protected], and visit apu.edu/international/.
I really feel that we need more 'fishers of men' in our society. I believe that God has called me for this purpose and APU's Master of Divinity program has prepared and equipped me for this calling. I have also found through Azusa Pacific Seminary's program many coworkers in this great endeavor who have answered God's calling for vocational ministry, and we now have the confidence to go out and make disciples of all nations.
The most positive aspect of my experience as a student at Azusa Pacific Seminary was the relationships that I made with the professors and students there. They have forever changed me. The MDiv is more than a program. I am not the same person that I was three years ago when I started the program. The experience challenged me to go deeper in my walk with God and in doing so, I discovered more about who He is and how He created me. It was not an easy journey to get to where I am today, but the encouragement of professors and students helped me along the way.
After hearing about Azusa Pacific Seminary's MDiv program from my mentor and talking to an APU admissions representative, I was convinced that it would be the best seminary to prepare me in my Methodist tradition, that it would be financially accessible compared to other programs, and that it would offer the flexibility I needed while working full time. While no program can prepare you wholly for what God has planned for each pastor, the MDiv coursework prepared me to innovate, to adapt, and to engage with God and people even when there is no clear answer as to what I should say or do. Azusa Pacific Seminary prepared me to be who God has called me to be today, and who He will call me to be in the future.
Featured Faculty
Director, Doctor of Ministry Programs; Professor, Department of Ministry
Associate Professor, Chair of Seminary, Director of Program for Professional Studies for SOT
Professor, Department of Biblical and Theological Studies
Career Outlooks and Outcomes

APU Receives $5 Million Lilly Endowment Grant in Partnership with LPU and LABI
APU received a $5 million grant from the Lilly Endowment in partnership with Life Pacific University and the Latin American Bible Institute that will strengthen pathways for theological education for Hispanic students.
Note: This information is current for the 2023-24 academic year; however, all stated academic information is subject to change. Please refer to the current
Academic Catalog
for more information.
*Base Cost (cost per unit x program units) is provided to aid in program comparison only.
All stated financial information is subject to change. View Tuition tab above.