Roger Conover, Ph.D.
Chair and Professor, Department of Economics, Finance, and International Business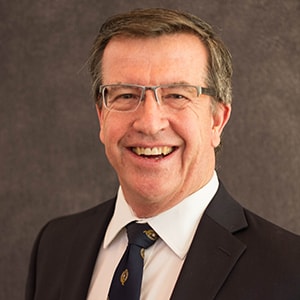 Biography
Roger Conover, Ph.D., has been an APU faculty member for 25 years and teaches courses in Economics and Religion, Microfinance and Microenterprise Development, Environmental Economics, and Comparative Economics. In 2007, he was awarded APU's Chase Sawtell Inspirational Faculty Award, and in 2013 was nominated for APU's Teaching and Campus Leadership Award. His research studies the integration of environmental and development economics with Christian missions work, as well as the conversation between economics and theology on such issues as scarcity, competition, and value, making points of integration between Christian beliefs and economics more accessible. Before joining APU, he was the executive secretary of Floresta USA (now called Plant With Purpose), a Christian nongovernmental organization doing agroforestry-based microenterprise development and environmental work in the Dominican Republic. He has served on the board of directors for Global Mapping International (GMI), an organization doing strategic Christian missions research and the mapping of linguistic, cultural, and economic data.
Education
Ph.D., University of California, Riverside
M.A., University of California, San Diego
B.A., Grinnell College
Academic Area
School of Business and Management
Expertise
Development Economics
Economics and Religion
Environmental Economics
Management
Quantitative Analysis
Courses Taught
BUSI 251 – Principles of Microeconomics
BUSI 311 – Quantitative Analysis for Management
IBUS 371 – Comparative Economic Systems
IBUS 372 – International Trade and Finance
Related Links