Kim Lu Lawe, Ed.D. '16
Director, Eastvale STEM Academy
At 8 months old, Kim Lu Lawe, Ed.D. '16, could not know the stakes. One innocent cry might betray the dozens huddled together in the hold of a fishing vessel sailing from Saigon under cover of night. Of the 79 on board, 14 others were also children, including Lawe's three older siblings. Their parents held their breath and prayed. From checkpoint to checkpoint and out into open waters, all on the boat stayed still and quiet. Ahead lay a harrowing 10 days at sea, followed by four long months in a relocation camp. But that courageous journey in 1977 led to their family's future: life in America, free to live out their Christian values.
"Our family's journey from Vietnam to the U.S. succeeded because of my father's diligent planning, and because everyone shared a vision of where we were going and what we needed to do to get there," said Lawe. Now a leader in secondary education, Lawe applies that same mindset to create a common mission among the faculty, staff, and students she serves, knowing that collective purpose put into action can achieve mighty things. "My history is a testament to that," she said. "I want them to know that together we can beat the odds and rise to the occasion, no matter the challenges."
Poised to test that once again, Lawe recently accepted the role as inaugural director of the Eastvale STEM Academy, an expansion of Eleanor Roosevelt High School in Riverside County—a natural progression after two decades as a classroom science teacher and assistant principal. Though Lawe struggled as a first-year teacher, uncertain she was meant for the important but demanding role, her calling became evident. In the middle of the school year, a near-fatal collision caused by a drunk driver put Lawe in intensive care. She awoke from a coma to heaps of heartfelt messages from her worried students, wishing for her full recovery and anticipating her return. "It stunned me to realize the impact I was having on their lives," said Lawe. "A firefighter who pulled me from the wreckage said God was giving me a second chance, and I clearly understand that now. I am here to fulfill my mission serving His children, our future generations."
Soon Eastvale STEM Academy students will experience an advanced learning center guided by Lawe's hand and vision. A place where indoor classrooms spill out into expansive common areas for research and collaboration, while outdoor learning spaces provide open air for open minds. Vast sight lines, coworking labs, and glass-walled "spark" tanks all lend themselves to the academy's mission to offer students a specialized STEM education. An alchemy of intentional planning and inspired architecture results in a community where interdisciplinary collaboration and partnership are prized and learning can happen anywhere. Not a single classroom has four walls.
"It stunned me to realize the impact I was having on (my students') lives. … God was giving me a second chance, and I clearly understand that now. I am here to fulfill my mission serving His children, our future generations."
"All students should have access to a STEM education whether they intend to be a surgeon or a medical office assistant," said Lawe. "The world needs capable workers at all levels, so the academy is open to any student with a desire to pursue these fields." With no set GPA requirements and an environment where special education students also receive support, Lawe's scholarship on diversity and inclusion proved a perfect fit.
"Dr. Lawe's research outlines the care and resources that have been helpful as young women develop their aspirations for STEM schooling and careers," said Jenny Yau, Ed.D., professor in the School of Education's Department of Educational Leadership, who mentored Lawe during her time in APU's doctoral program. "The findings of her study, alongside her skills as a passionate, intelligent, and relational leader, provide strong support for the vision and goals of her academy."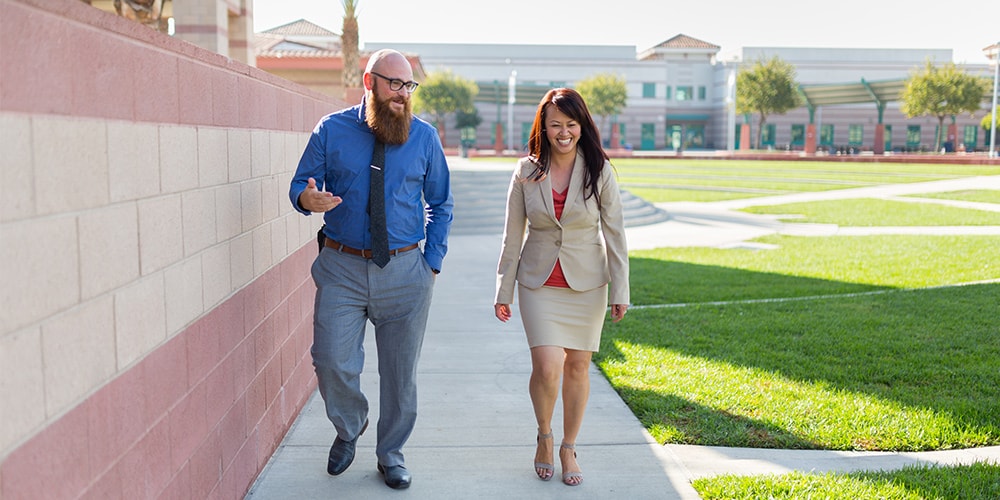 Corona-Norco Unified School District officials broke ground in February 2017 and plan to finish construction during the 2018-19 school year in time to welcome students for fall 2019. Already Lawe has begun laying crucial groundwork by preparing an exceptional team of STEM educators, generating community support, and shaping curriculum so graduates will be well-positioned for college and careers. "The best part of working together is that students see how much their teachers care, and they quickly begin to model the same working style, which is ideal for studying science and helps female and underrepresented students better engage the material," said Lawe. More than 300 students at Eleanor Roosevelt are currently in STEM program tracks for medical science or engineering. When the new facility opens, that number will grow to 1,000.
Once something only imagined, now Eastvale STEM Academy stands as a testimony to the power of vision and the strength of an education champion, one drawn from a rich legacy of family and of faith.
Related Stories