Robert Duke, Ph.D.
Dean, School of Theology and Azusa Pacific Seminary
Phone:
(626) 815-6000, Ext. 5657
Alternate:
(626) 815-5450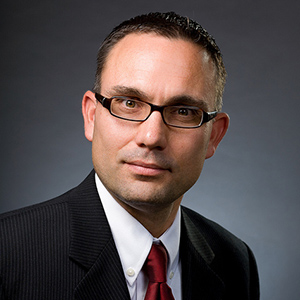 Video Introduction
Biography
Robert R. Duke, Ph.D., is an expert in Old Testament, the Dead Sea Scrolls, and Second Temple Judaism. He has spent almost four years studying in the Middle East, which has highly influenced his perspectives and teaching. "Visions of Amram," his dissertation from UCLA on the Aramaic Qumran text, was published as The Social Location of the Visions of Amram (4Q543–547) (Peter Lang Publishing, 2010), and he has published articles and book chapters in Dead Sea Discoveries, Scandinavian Journal of the Old Testament, and other publications. Duke has also devoted research time to improving pedagogy in biblical studies, investigating how service-learning and community-engaged teaching can improve student retention of course material. From 2009-12, Duke chaired the Service-Learning and Biblical Studies workshop at the annual Society of Biblical Literature meeting. Among his many awards, Duke received a Rotary Ambassadorial Scholarship to study at Hebrew University in 2000-01, and was a Fellow at the Albright Institute for Archaeological Research in 2005.
Education
Ph.D., Ancient Near Eastern Languages and Cultures, University of California, Los Angeles
M.A., Hebrew Literature, University of California, Los Angeles
M.A., Hebrew Bible, Jerusalem University College
B.A., Theology, Multnomah Bible College
Academic Areas
School of Theology

Department of Biblical and Religious Studies

Azusa Pacific Seminary
Expertise
Ancient Near Eastern Languages and Cultures
Dead Sea Scrolls
Hebrew
Courses Taught
UBBL 100 – Introduction to Biblical Literature: Exodus/Deuteronomy
UBBL 311 – Hebrew Prophets I
UBBL 312 – Hebrew Prophets II
UBBL 420 – The Dead Sea Scrolls and the Biblical World
Office Hours
See office door
Related Links
Related APU News