Help Children and Families in Times of Stress with a Child Life Degree
Available Online
Child life specialists are allied health care professionals who support children and their families facing challenging experiences, particularly traumatic medical situations. Azusa Pacific University's master's in child life program prepares men and women for this special role, utilizing advanced academic preparation and hands-on experiences within a framework of Christian compassion.
Program Highlights
Flexible scheduling, with start times in spring and fall
Choose your modality. Program is offered in person at Azusa for those who start in the Fall and online for those who start in Spring.
Advanced Standing option for Certified Child Life Specialists (CCLS) with a BA or BS degree, as well as individuals who have successfully completed the 600 required internship hours.
Housed in the Department of Psychology, which emphasizes research and therapeutic skills
Can be completed in only 18 months, saving you time and money
Welcoming environment grounded in a Christian worldview
Child Life and Counseling Psychology Programs: What's the Difference?
Learn more about the program format and our faculty.
Association of Child Life Professionals Endorsement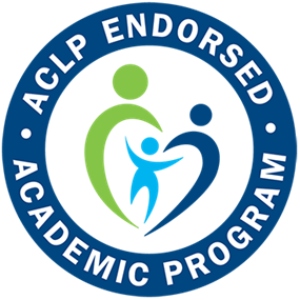 Azusa Pacific's MS in Child Life program is one of only a handful of academic programs in the United States and Canada that is endorsed by the Association of Child Life Professionals (ACLP). This recognition assures that the program meets the requirements set forth in the ACLP's Standards for Academic and Clinical Preparation Programs, confirming that the program's structure, curriculum, resources, support system, and sustainability are of the highest quality. Students can be confident that coursework meets ACLP certification requirements, enabling them to apply for and take the exam to become a Certified Child Life Specialist (CCLS).
The Benefits of Studying in an Endorsed Child Life Program
"As an endorsed program, students know our program offers coursework that meets ACLP's rigorous certification requirements" said Charity Vasquez, PhD, CCLS, director of the MS in Child Life. Explore additional benefits of studying in an ACLP-endorsed program.
According to ACLP, "Students graduating from an endorsed program during the period of endorsement will still need to complete an eligibility assessment with ACLP, but will not need to have each course reviewed, as endorsement signifies inclusion of all areas of the coursework requirements. This means students graduating from an endorsed program during the period of endorsement have the assurance that their coursework satisfies the 2019 coursework requirements for exam eligibility. Students who have graduated from or are enrolled in an ACLP-endorsed academic program during the period of endorsement must contact the ACLP office in order to start their Eligibility Assessment."
School of Behavioral and Applied Sciences Accreditation
Azusa Pacific University is accredited by the WASC Senior College and University Commission (WSCUC).
University Reputation
U.S. News & World Report's America's Best Colleges 2023 edition named Azusa Pacific to its list of top national universities and several other significant lists, including First-Year Experiences and Top Performers on Social Mobility. The Princeton Review designated APU as 1 of 126 institutions in the "Best Western Colleges" section of its 2023 Best Colleges guide. APU's School of Nursing was named a top nursing school in California for 2023 by College Factual and Niche. APU was included as a top-100 degree producer by Diverse: Issues In Higher Education and is a designated Hispanic-Serving Institution (HSI). Azusa Pacific is also a Military Friendly School and Yellow Ribbon University, serving more than 500 military-connected students and families, and is classified by the Carnegie Foundation as an R2 Doctoral Research University.
Note: This information is current for the 2023-24 academic year; however, all stated academic information is subject to change. Please refer to the current Academic Catalog for more information.