Master of Business Administration (MBA)
Study Master of Business Administration (MBA) at Azusa Pacific University
You'll graduate with sought-after credentials and skills, prepared to successfully manage and lead in business. You'll build connections through firsthand interactions with companies and executives and boost your résumé with the opportunity to earn internationally recognized microcredentials. Pursue your unique career goals in a program based on your individual schedule and career interests, with a wide variety of concentrations, flexible class times and formats, and multiple in-person locations.
Program at a Glance
The School of Business and Management cultivates students' skills, faith, and character to become business leaders who inspire change.
Application Deadline
Students are admitted to and can start the

MBA degree

program in any of the six sessions during the school year. The application deadline is approximately three weeks before the start of any session.
Program Units
42-45
Cost per Unit
$680
Base Cost
$28,560–$30,600*
Location
Azusa (Main Campus), Inland Empire, Murrieta, Online, Orange County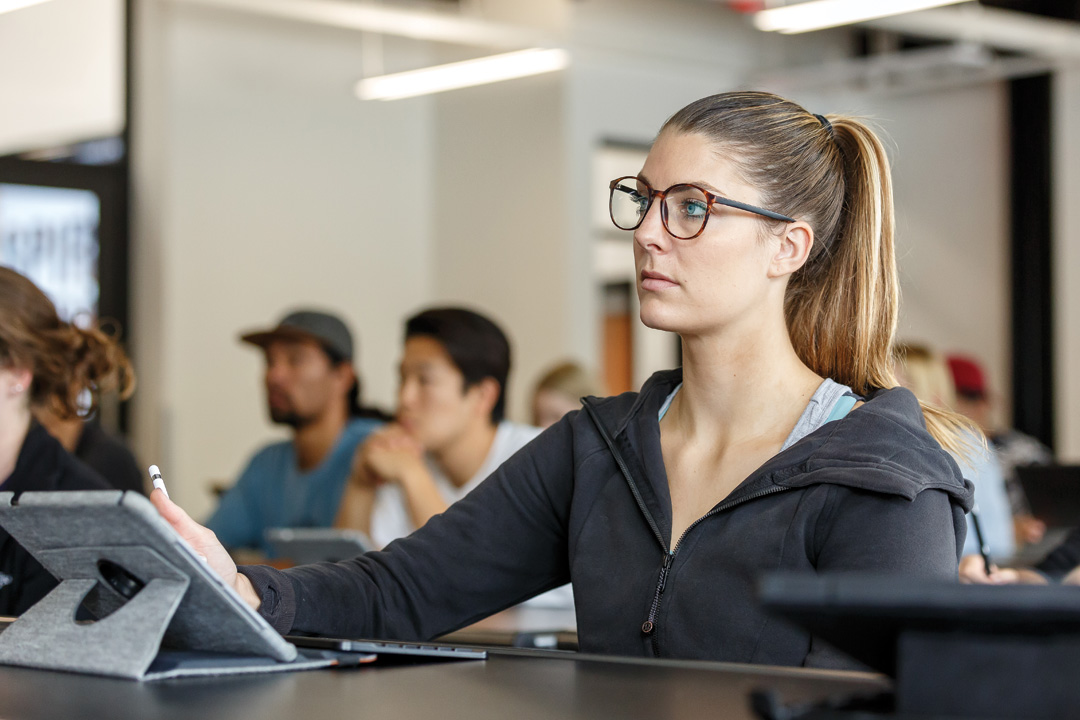 Gain Hands-on Experience
Explore ethics in business through a Christ-centered approach.

Build connections with businesses and executives, with opportunities for travel.

Earn certificates and credentials that showcase your skills to employers.

Complete real-world projects to apply learning at work.

Learn from Fulbright Scholars and world-renowned professors with experience.
#6
Nationwide - APU's online MBA with a concentration in entrepreneurship according to Master's Programs Guide
#48
in California - APU's MBA program according to UniversityHQ
1 of 126
Best Western Colleges according to Princeton Review's 2023 Best Colleges Guide
Program Details
The Master of Business Administration (MBA) program offers working professionals an accessible yet rigorous graduate business program that can be completed in 12-30 months. The program prepares students to lead in the workplace by equipping them with key strategic concepts and the analytical and relational skills to make sound recommendations and decisions. The curriculum is designed to strike a balance between theory and practice, combining scholarship with practical experience and actual corporate case studies of business decision making. Students also select an area of concentration based on specific interests and career aspirations.
Browse the tabs below—if you have questions, visit the Student Services Center page, and we'll make sure you get the info you need.
Students are admitted to and can start the MBA degree program in any of the six sessions during the school year. The application deadline is approximately three weeks before the start of any session.
Admission Requirements—Domestic Applicants
The university graduate and program admission requirements below must be met before an application is considered complete.
Applicants must possess:
A bachelor's degree from a regionally accredited college or university.

A minimum 2.5 GPA on a 4-point scale. Applicants with a GPA of 2.5-2.99 will be considered for

conditional admission

.

Potential for success in graduate business studies. An assessment of students' total qualifications—the rigor of their undergraduate studies, academic performance, extensive work experience, and personal references—is made.
Applicants must submit:
$45 nonrefundable application fee

Official transcripts from all institutions leading to and awarding the applicant's bachelor's degree from a regionally accredited institution and all postbaccalaureate study






An official transcript is one that Azusa Pacific University receives unopened in an envelope sealed by the former institution and that bears the official seal of the college or university. A cumulative minimum 3.0 (on a 4.0 scale) grade-point average on the posted degree is required for regular admission status. Provisional admittance may be granted to individuals with a lower GPA if competency can be shown through multiple measures.

Application essay of 1-2 pages describing educational and professional goals

Résumé or curriculum vitae of work experience
Admission Requirements—International Applicants
Azusa Pacific University is authorized under federal law by the U.S. Citizen and Immigration Services and the U.S. Department of State to enroll nonimmigrant, alien undergraduate and graduate students. APU issues and administers both the I-20 and DS 2019 (F-1 and J-1 status documents respectively).
To apply for a graduate program at APU, the following requirements must be fulfilled in addition to meeting the domestic applicant and program-specific admission requirements specified above.
International applicants must also:
Demonstrate proficiency in English through a placement test with the

Academic Success Center

, or through a TOEFL/IELTS score that meets program-specific requirements. Refer to APU's

English proficiency requirements

to learn more. Request that official test scores be sent to APU. All other forms of proof indicated in the English proficiency requirements must be submitted directly to International Services.

Provide a

Graduate Affidavit of Financial Support (PDF)

and a bank statement from within the last six months proving financial ability to pay for education costs through personal, family, or sponsor resources.

Submit a copy of a valid passport showing biographical data, including your name, country of citizenship, date of birth, and other legal information.

Get foreign transcripts evaluated. International credentials (transcripts, certificates, diplomas, and degrees) must be evaluated by a foreign transcript evaluation agency. View our policy and a list of approved

Foreign Transcript Evaluation Agencies

.
Send official transcripts to:
Office of Graduate and Professional Admissions
Azusa Pacific University
PO Box 7000
Azusa, CA 91702-7000
[email protected]
What to Expect
After all admission materials have been received by the Student Services Center, the faculty or department chair reviews the applicant's file. The applicant is notified in writing of the admission decision.
Conditional Admission
No GMAT or GRE score is required for the MBA. Conditional admits (those who have less than a 3.0 undergraduate GPA) may need to complete up to five prerequisite courses.
Multiple financial aid options are available to make your MBA degree affordable.
Delivering high-quality graduate programs takes a comprehensive support system. Your investment in an advanced degree includes a complete network of student services and access to a community of faculty and staff who partner with you in your pursuit of higher education. Below is a detailed breakdown of the fees associated with benefits and services that may be included in your degree program.
School of Business and Management Fees
Tuition (per unit) and Fees

| | |
| --- | --- |
| | Cost |
| Leadership, MA (per unit) | $680 |
| Master of Business Management (MBM, including online) | $680 |
| MBA (including online) | $680 |
| Organizational Psychology, MS (per unit) | $680 |
| Audit (per unit) | half-price tuition |
Leung School of Accounting
Tuition and Fees

| | |
| --- | --- |
| | Cost |
| Master of Professional Accountancy (per unit) | $680 |
| Master of Professional Accountancy Wiley Review Fee | $1,085 |
View a complete list of university fees.
All stated financial information is subject to change. Contact the Student Services Center at (626) 815-2020 for more information.
Financial Aid
Several types of financial aid are available to graduate students. The resources range from federal loans and state grants to, for some graduate programs, fellowships and scholarships. For details about financial aid available for your program, please contact the Student Services Center at (626) 815-2020.
Military Benefits
Military members—and in some cases their spouses and dependents—qualify for financial assistance covering tuition, housing, and books. Azusa Pacific is a Yellow Ribbon University and Military Friendly School, so you can be confident that you'll receive the benefits and flexibility you need to complete your education.
School of Business and Management Alumni Tuition Discounts
APU's School of Business and Management offers an alumni tuition discount for APU alumni starting in the following graduate programs:
Students must be in good academic standing and maintain satisfactory academic progress with a minimum cumulative grade-point average (GPA) of 3.0. Students must be enrolled at least half-time. If qualifications are met, the discount may be renewed each term. APU will pay $500 per term (up to $2,000 over the course of the program). This discount cannot be combined with other institutional aid. Contact Student Financial Services for complete eligibility details.
Note: Award and eligibility are applicable for the 2022-23 academic year and apply to students admitted beginning fall 2020. The discount is subject to change.
MOU Partner Tuition Discounts
The School of Business and Management offers a 15 percent tuition discount on the Bachelor of Business Administration (BBA), Master of Business Administration (MBA), and Master of Business Management (MBM) programs for employees, and their spouses and dependents (up to age 26), of the following organizations:
Students fill out the 2019-20 MOU Discount Form and provide proof of employment along with a form every year of enrollment. This discount cannot be combined with other institutional aid. Contact Student Financial Services for complete eligibility details.
To view specific requirements and coursework information, visit the current academic catalog:


Azusa Pacific's traditional MBA degree program is designed for working professionals, offering flexible scheduling and various modes of delivery (face to face or online) for a more convenient experience. All students begin their coursework with a foundation class in ethical leadership that provides the framework for looking at leadership through a Christian ethical perspective and sets the stage for the faith integration that takes place throughout the program. All coursework is comprehensive, rigorous, and experiential, often utilizing real-life cases and simulations in which students act as the decision makers and use their creativity and MBA toolkit to make sound recommendations. Along with the business core, students must select a concentration from a broad range of options, giving them the opportunity to mold their program toward their specific interests and career aspirations.
How long is a semester?
School of Business and Management graduate programs run on 8-week terms.
How many units do I take each term?
Each student can complete this program at his or her preferred pace, so the number of units per term is up to you.
How many hours does each class session require?
Classes meet once a week for 4 hours and 5 minutes.
How many evenings per week do I attend classes?
Students generally attend class one to two nights per week, depending on the number of classes in which they are enrolled.
How soon can I finish this program?
This program can be completed in 1-5 years. Most students complete the program in 2.5 years.
Field Experience
Students may elect to complete an intensive field experience trip as part of their coursework. This provides students with opportunities for field case studies and experiential visits to observe and evaluate the inner workings, management, and operations of organizations and businesses in manufacturing, merchandizing, services, finance/investment industries, and/or government and nonprofit sectors of the economy. National and international field trip destinations vary each session and may include places in Asia, Africa, Europe, South and Central America, and North America.
APU's MBA degree program offers a highly accessible and comprehensive online option, allowing you to earn your degree in a flexible environment without sacrificing the high-quality instruction and professor-student interaction for which APU is known.
Flexible Format
The dynamic format of the online MBA offers students the flexibility of taking courses wherever and whenever is most convenient for them. Students benefit from courses designed to maximize their interaction with other students and professors, creating a rich learning community. For many, the online format is the easiest, most convenient way to balance work, school, and family.
Convenient Schedule
APU's School of Business and Management operates on a year-round schedule, with each academic year divided into 8-week sessions (see the academic calendar for dates). Most students take one to two classes per session, completing their degree in 15-30 months. While students can choose to extend the length of their program past the average completion time by taking fewer units per term, the School of Business and Management requires completion of a graduate degree within five years of initial enrollment.
New students are accepted to the online option throughout the year. The application deadline is approximately four weeks before the start of any session. For more information or to get started, contact APU's Office of Graduate and Professional Admissions at (626) 815-2020 or [email protected].
Time Commitment
While your classes do not require you to be online during a specific timeframe, you should plan to be online 6-10 hours per week per unit to successfully complete assignments and participate in discussions.
Committed to Your Success
We want you to feel confident as you earn your degree online. That's why all of our online programs include a two-week online orientation prior to the start of the first class; this offers you a chance to become familiar with the online format as you engage with helpful tutorials. Students also have access to the program coordinator to discuss scheduling classes. Academic advising provides an opportunity to continuously monitor your progress and individualize your programs of study. Keep in mind that all graduate students are required to maintain a minimum cumulative grade-point average of 3.0 on a 4.0 scale for the duration of the program.
FAQ
How often do I need to be online for this program?
You must be online sufficiently throughout each week to participate in threaded discussions and to complete all assignments by their designated deadlines. However, there is no prescribed amount of time or designated time that you will be required to be online, because assignments and their deadlines will vary throughout each 8-week course.
Will I have to complete any part of my online MBA program at an APU campus location?
No. You can complete your MBA degree entirely online. No campus visits or meetings are required.
How do I get started?
For more information on how to get started in an APU online graduate program, contact one of our admissions representatives in the Student Services Center at (626) 815-2020 or at [email protected].
How long is a term?
School of Business and Management graduate programs run on 8-week sessions. Two 8-week sessions comprise a term.
How many units do I take each term?
To be classified as a full-time graduate student, one must be enrolled in at least 9 total units over the span of a term (fall, spring, or summer). Within each term, online MBA students take courses during two 8-week sessions. For example, a full-time student may take 6 units during the 8-week Fall I session and 3 units during the 8-week Fall II session, for a total of 9 units.
How soon can I finish this program?
Most students complete the online MBA program in 15-30 months.
Azusa Pacific's MBA degree students are able to tailor their program by choosing from among the following seven concentrations:
Accounting
Students pursuing this concentration may choose from advanced courses in accounting ethics, accounting information systems, accounting and tax research methods, auditing, forensic accounting and fraud investigation, and more. Students develop the skills needed to understand and critically evaluate financial statements, apply accounting principles in the workplace, and make strategic recommendations and decisions that benefit the financial health of for-profit and nonprofit organizations.
Business Analytics
This concentration is designed for students who want to develop their analytical skills and learn how to use data-driven insights to make informed business decisions. Students also gain an understanding of how to interpret data and communicate their findings effectively to different stakeholders. Graduates will be prepared for a variety of roles in business, including roles as data analysts, business intelligence analysts, and data scientists.
Entrepreneurship
From ideas and inspiration through the feasibility-and-evaluation process, this concentration provides a framework for the application of practical business knowledge and tactics in transforming entrepreneurial vision into winning business strategies and thriving entrepreneurial ventures. Personal assessment and involvement exercises, team activities, new venture simulation, and case studies are utilized to provide knowledge and expertise as students analyze factors affecting consumer purchase decisions in the marketplace, apply behavioral and social science concepts, and study methods that organizations use for negotiating, marketing, and communicating with customers and prospects.
Finance
Finance professionals specialize in financial resource management at the personal and organizational levels in such areas as fundraising, cash management, investment activities, and budgeting for short-term and long-term success and growth. Students in this concentration learn about sources and uses of funds, the nature of capital markets, the role of financial institutions, financial instruments and investment principles, and the practical applications of the tools of financial management.
Government Financial Management
This concentration focuses on managing the finances of government agencies at the federal, state, and local levels. Students learn about the unique challenges of managing government finances, including the need to balance competing priorities and the importance of transparency and accountability. Students also gain an understanding of the laws and regulations that govern government finances, such as the Government Accountability Office (GAO) and the Federal Accounting Standards Advisory Board (FASAB). Graduates of a government financial management concentration are well-prepared for careers in public finance, government accounting, and budget analysis.
Healthcare Management
This concentration is focuses on the unique challenges of managing healthcare organizations, including hospitals, clinics, and other healthcare facilities. Students learn about the the healthcare business, including healthcare operations management, healthcare marketing, and healthcare quality and safety. Graduates of the healthcare management concentration are well-equipped to take on leadership roles in healthcare organizations, including healthcare administrators, healthcare consultants, and healthcare policy analysts.
International Business
This concentration prepares students for the global marketplace, challenging them to understand the macroeconomic and microeconomic environments in which global businesses function. The international dimensions of managing in different cultures, marketing to different societies, dealing with the financial complications of multiple currencies, and making ethical decisions in diverse contexts are explored and developed. Students also acquire increased awareness through study-away opportunities.
Marketing
With the rise of social media and an increasing number of direct touch points with consumers, companies require marketing specialists with the skills to ensure that their organizations are cutting edge while maintaining high ethical standards to deliver a solid value proposition to customers and stakeholders. In this concentration, students learn about strategic marketing, which utilizes environmental turbulence levels, industry forces, and organizational change. Students also engage in hands-on research, planning, and analysis as they learn how to build market-centric organizations via digital marketing, integrated marketing communications, social media analytics, case study analysis, and decision making.
Public Administration
This concentration focuses on the management and administration of public organizations, including government agencies, non-profit organizations, and international organizations. Students learn about the unique challenges of managing public organizations, including budget constraints, political pressures, and the need to balance the interests of multiple stakeholders. They also gain an understanding of public policy analysis, the policy process, and economic development. Graduates of a public administration concentration are well-prepared for careers in government, non-profit management, and international development, as well as consulting and advocacy roles in the public sector.
Organizational Science
This concentration serves the unique education and training needs of professionals with specific career objectives not captured by any other concentration. Each student designs this concentration according to his or her interests and career goals, proposing specific business courses and select courses from other graduate programs within the APU community. All organizational science proposal forms must be submitted to the School of Business and Management Graduate Program Committee for review and approval prior to beginning the concentration.
Sport Management
This concentration balances advanced business instruction with fundamental sport management training to prepare individuals for successful leadership and operation of various sport and athletic enterprises at the youth, collegiate, and professional levels. Students also acquire an understanding of the global business environment and how cultural and market diversities impact the world of sports. Students learn how to apply quantitative analytical abilities, effective collaborative and team-building skills, and an awareness of corporate social responsibility from a Christian worldview to become sport management professionals who are efficient and effective decision makers.
If you have questions, we're here to help! Connect with a representative who can walk you through the program details and application process.
Contact Your Admissions Representative
School of Business and Management
Email
Mail
School of Business and Management
Azusa Pacific University
PO Box 7000
Azusa, CA 91702-7000
Hours
Monday–Friday, 8 a.m.-5 p.m.
Student Services Center
Contact (626) 812-3016 or [email protected], and visit apu.edu/ssc for details on the admissions process, financial aid, and class registration.
International Services
International students should contact +1-626-812-3055 or [email protected], and visit apu.edu/international/.
Azusa Pacific University is accredited by the WASC Senior College and University Commission (WSCUC).

The School of Business and Management receives accreditation from the

International Assembly for Collegiate Business Education (IACBE)

, and is a member of the Association to Advance Collegiate Schools of Business (AACSB).
Featured Faculty
Chair of Management; Professor
Assistant Dean; Assistant Professor
Career Outlooks and Outcomes
APU's School of Business: A Leader in Innovation
APU's School of Business is constantly innovating to fit the needs of today's learners, including launching APUx, a program dedicated to filling the needs of working professionals through extended learning experiences.
Note: This information is current for the 2023-24 academic year; however, all stated academic information is subject to change. Please refer to the current
Academic Catalog
for more information.
*Base Cost (cost per unit x program units) is provided to aid in program comparison only.
All stated financial information is subject to change. View Tuition tab above.