Biotechnology, MS
Study Biotechnology at Azusa Pacific University
You'll earn your master's degree in just two years, prepared for success in a rapidly growing career in the biomedical industry. We'll help you secure internships and master's degree projects with regional pharma/biopharma and medical device companies to broaden your network and résumé. When you graduate, you'll be equipped to lead in key areas like molecular biology, project management, biomedical products, and more.
Program at a Glance
The College of Liberal Arts offers diverse well-rounded degree programs to prepare critical thinkers to make a difference in the world for Christ.
Application Deadline
This program has a rolling admissions deadline. Students are recommended to apply at least 2 to 3 weeks before the Fall or Spring semester they would like to start.
Program Units
39
Cost per Unit
$1,035
Base Cost
$40,365
Location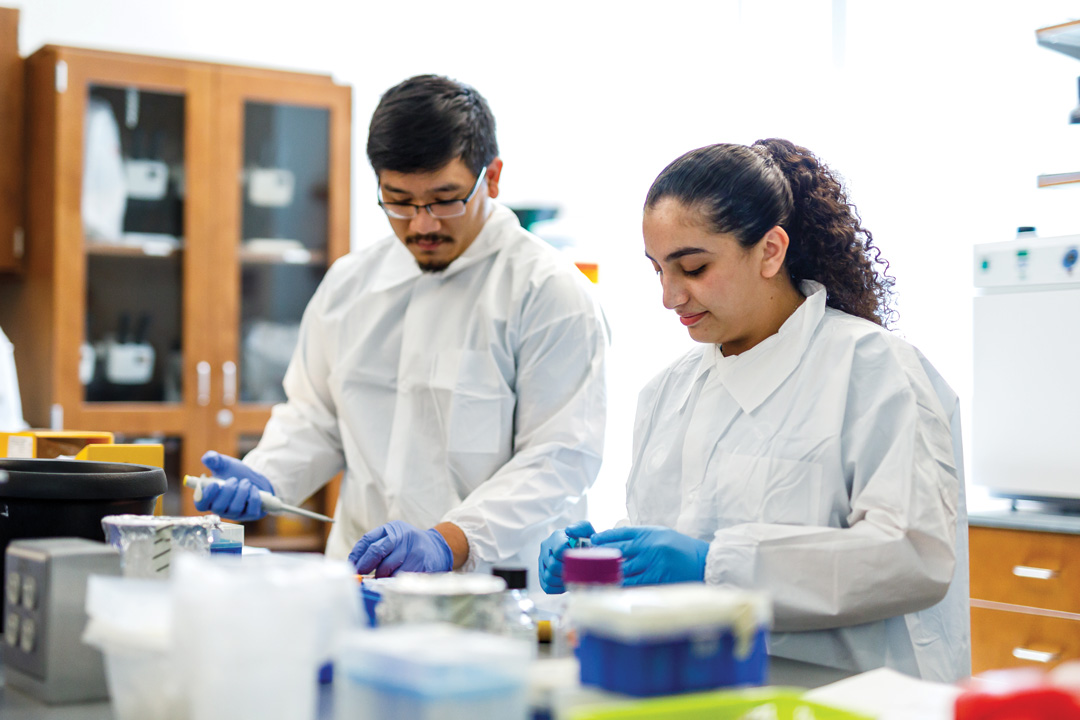 Gain Hands-on Experience
Take evening course options to accommodate your work life.

Participate in on-site internships and master's degree projects with regional companies in the biotech field.

Learn from industry professionals with relevant experience.

Research and training opportunities in Mammalian Cell Culture and Tissue Engineering.
90

%
of MS Biotechnology Students graduate into successful career paths after completing the MS Biotechnology Degree Program
50

%
of biomedical product companies are located in California
10

%
Expected growth of biomedical engineers and bioengineers careers from 2021-2031
1 of 126
Best Western Colleges according to Princeton Review's 2023 Best Colleges Guide
Program Details
Azusa Pacific's Master of Science in Biotechnology prepares graduates for success in this rapidly growing field, providing training in key areas, including molecular and cellular biology, mathematical modeling, mining of biological databases, regulatory affairs, clinical trials, project management, and biomedical products manufacturing.

Browse the tabs below—if you have questions, visit the Student Services Center page, and we'll make sure you get the info you need.
Admission Requirements—Domestic Applicants
The university graduate and program admission requirements below must be met before an application is considered complete.
$45 nonrefundable application fee

Official transcripts from all institutions leading to and awarding the applicant's bachelor's degree from a regionally accredited institution and all postbaccalaureate study




An official transcript is one that Azusa Pacific University receives unopened in an envelope sealed by the former institution and that bears the official seal of the college or university. A cumulative minimum 3.0 (on a 4.0 scale) grade-point average on the posted degree is required for regular admission status. Provisional admittance may be granted to individuals with a lower GPA if competency can be shown through multiple measures.

Preferred baccalaureate degrees for the biotechnology master's degree include: BS in Biological Sciences, BS in Engineering, BS in Chemistry, BS in Mathematics, or related degrees.Résumé

Two recommendation letters, to be submitted by those with knowledge of your professional ability and potential

One-page personal statement describing why you wish to study biotechnology at APU as well as where you see yourself going in this career field

In-person interview for qualified, selected applicants
Admission Requirements—International Applicants
Azusa Pacific University is authorized under federal law by the U.S. Citizen and Immigration Services and the U.S. Department of State to enroll nonimmigrant, alien undergraduate and graduate students. APU issues and administers both the I-20 and DS 2019 (F-1 and J-1 status documents respectively).
To apply for a graduate program at APU, the following requirements must be fulfilled in addition to meeting the domestic applicant and program-specific admission requirements specified above.
International applicants must also:
Demonstrate proficiency in English through a placement test with the

Academic Success Center

, or through a TOEFL/IELTS score that meets program-specific requirements. Refer to APU's

English proficiency requirements

to learn more. Request that official test scores be sent to APU. All other forms of proof indicated in the English proficiency requirements must be submitted directly to International Services.

Provide a

Graduate Affidavit of Financial Support (PDF)

and a bank statement from within the last six months proving financial ability to pay for education costs through personal, family, or sponsor resources.

Submit a copy of a valid passport showing biographical data, including your name, country of citizenship, date of birth, and other legal information.

Get foreign transcripts evaluated. International credentials (transcripts, certificates, diplomas, and degrees) must be evaluated by a foreign transcript evaluation agency. View our policy and a list of approved

Foreign Transcript Evaluation Agencies

.
Send official transcripts to:
Office of Graduate and Professional Admissions
Azusa Pacific University
PO Box 7000
Azusa, CA 91702-7000
[email protected]
What to Expect
After all admission materials have been received by the Student Services Center, the faculty or department chair reviews the applicant's file. The applicant is notified in writing of the admission decision.
Delivering high quality graduate programs takes a comprehensive support system. Your investment in an advanced degree includes those services and personnel that partner with you in pursuit of your biotechnology master's degree.
Tuition

| | |
| --- | --- |
| Tuition (per unit) | $1,035 |
| Units | 39 |
| Base Program Cost | $40,365 |
Financial Aid
Several types of financial aid are available to graduate students. The resources range from federal loans and state grants to, for some graduate programs, fellowships and scholarships. For details about financial aid available for your program, please contact the Student Services Center at (626) 815-2020.
Military Benefits
Military members—and in some cases their spouses and dependents—qualify for financial assistance covering tuition, housing, and books. Azusa Pacific is a Yellow Ribbon University and Military Friendly School, so you can be confident that you'll receive the benefits and flexibility you need to complete your education.
To view specific requirements and coursework information, visit the current academic catalog:


Five-Year BS in Biochemistry Plus MS in Biotechnology Pathway
Undergraduate students can complete a Bachelor of Science in Biochemistry (Research Emphasis) and Master of Science in Biotechnology in just five years. The combination of these two degrees prepares graduates for success in biotechnology careers. Biochemistry majors admitted to the MS in Biotechnology program can take up to 9 units of 500-level graduate coursework during their senior year, finishing the remaining 30 units for the master's degree over the next year (e.g., 6 units in the summer term, 9 units in the fall term, and 15 units in the spring term).
Students interested in completing this five-year pathway should apply to APU as a biochemistry major and by the end of their sophomore year declare the research emphasis. During their junior year (after completing BIOL 280 with C- or better), students must apply to the MS in Biotechnology program. The graduate application fee will be waived. Students must maintain a 3.0 GPA or higher to be considered for the MS program and five-year pathway. Once a student has been accepted into the MS program, they can begin their graduate coursework in their senior year, according to the course requirements indicated in the catalog. For more information about this pathway, contact [email protected].
Entry requirements differ among graduate schools and jobs. Students are responsible for researching the requirements of graduate programs and professions in which they are interested.
If you have questions, we're here to help! Connect with a representative who can walk you through the program details and application process.
Contact Your Admissions Representative
Additional Program Contact
David L. Dyer, PhD, program director, (626) 815-2088, [email protected]
College of Liberal Arts and Sciences
Phone
(626) 815-6000, Ext. 3500
Email
Mail
College of Liberal Arts and Sciences
Azusa Pacific University
PO Box 7000
Azusa, CA 91702-7000
Student Services Center
Contact (626) 812-3016 or [email protected], and visit apu.edu/ssc for details on the admissions process, financial aid, and class registration.
International Services
International students should contact +1-626-812-3055 or [email protected], and visit apu.edu/international/.
Azusa Pacific University is accredited by the WASC Senior College and University Commission (WSCUC).
Featured Faculty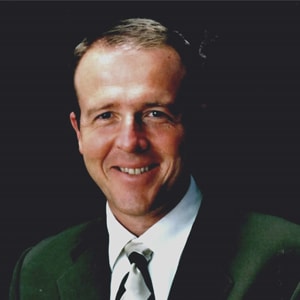 Executive Director and Professor, MS in Biotechnology Studies
Adjunct Professor, Department of Biology and Chemistry
Adjunct Professor, MS Biotechnology Studies, Department of Biology and Chemistry; Department of Philosophy
Career Outlook and Outcomes
Program News
APU recently announced a $2 million investment in state-of-the-art equipment which will enable faculty and students to conduct cutting edge research, further bolstering APU's status as the only CCCU institution to receive the prestigious Carnegie R2 designation.
A part of this funding has been used to establish a state-of-the-art Tissue Engineering facility, comprising 3-D tissue printing capability, structure function analysis, and collaborative research for early pipeline therapeutic candidates. Students of the MS Biotechnology Program are invited to participate in research projects and training associated with the new TE center. The MS Biotechnology Program is pleased to announce funding for its Gilead Scholarship, which supports masters students as they complete their masters-degree internships and projects.
Note: This information is current for the 2023-24 academic year; however, all stated academic information is subject to change. Please refer to the current
Academic Catalog
for more information.
*Base Cost (cost per unit x program units) is provided to aid in program comparison only.
All stated financial information is subject to change. View Tuition tab above.