Public Relations Major
Study Public Relations Major at Azusa Pacific University
You'll graduate with a professional portfolio, real-world experience working in our student PR agency, and internships on your résumé—ready to secure employment as an outstanding public relations professional in a competitive field. Add an edge to your future job search by specializing in non-profit, entertainment, or sports PR. Embedded with a Christian worldview and nested in the Greater Los Angeles area, one of the world's top media markets, this program will open doors to successfully pursuing your calling in public relations.
Program at a Glance
Throughout all programs, emphasis is placed on the application of Christian truth and values to the study of communication theories and processes, consideration of ethical issues, and the mastery of current scholarship in each field. All programs focus on applying Christian values to communication studies, thinking about ethics, and mastering the latest research in each field.
Application Deadline
The admission requirements for your public relations major will vary depending upon your status as a first time freshman, transfer, or international student.
Program Units
51
Location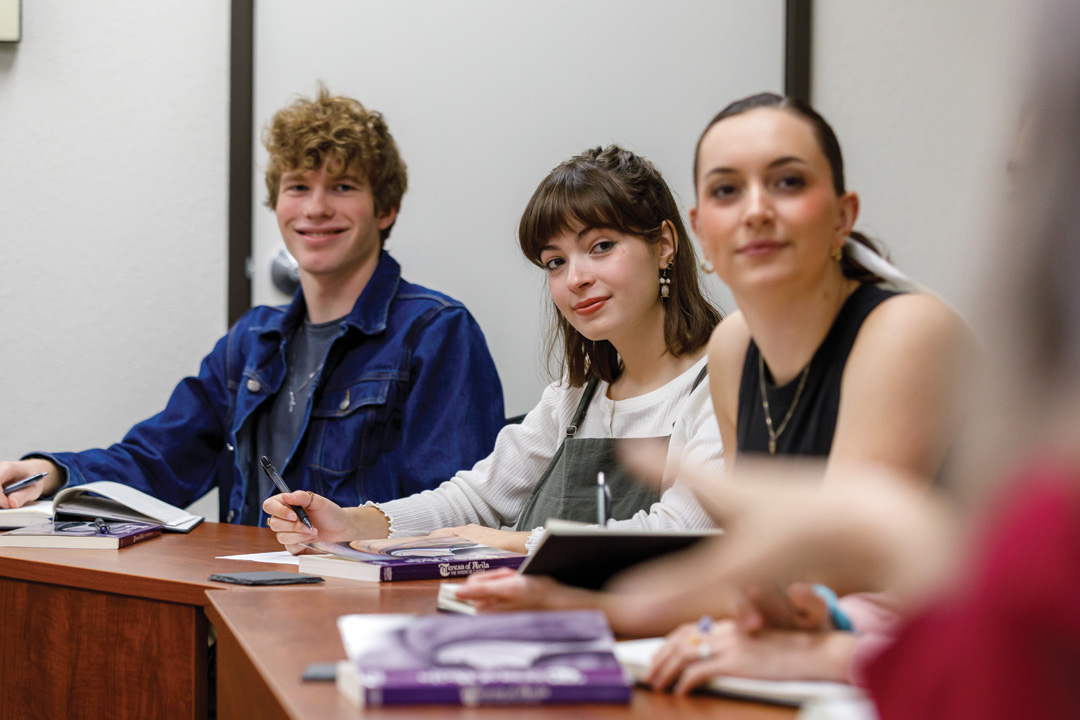 Gain Hands-on Experience
Intern in the Greater Los Angeles area, one of the world's top media markets.

Create a professional portfolio through our student-run public relations agency.

Produce high-quality public relations pieces.

Connect consumers and corporations through meaningful relationships.

Apply Christian truths and values to the study of communication.
13

:1
Student-to-faculty ratio
60

%
Predicted increase in hiring in the public relations field in the next several years, according to the Public Relations Society of America.
APU Study Away Opportunities: Natasha Zimmerman's Oxford Experience
Public relations major Natasha Zimmerman '24 experienced transformational change when she studied abroad for a semester in Oxford.
Program Details
The public relations major is an innovative program that offers in-depth study of the field and emphasizes hands-on experience. Students create their own professional portfolio, gain experience working in APU's student-run agency, join the local chapter of the Public Relations Student Society of America, develop global public relations skills through international study-away trips, and become specialists in nonprofit, entertainment, or sports PR.
Browse the tabs below—if you have questions, visit the Student Services Center page, and we'll make sure you get the info you need.
General Undergraduate Admission Requirements
Select an option below:
Although a private college education may seem out of reach for many, recent research from Kiplinger reveals that the actual value of some private universities may prove this assumption wrong. In 2010, Kiplinger selected Azusa Pacific University for its Top 100 Best Values in Private Colleges rankings. Read more about APU's ranking in Kiplinger's Best Values in Private Colleges.
APU students may take advantage of three types of financial aid: scholarships and grants, education loans, and student employment.
Scholarships and Grants
Scholarships and grants are considered "gift aid" and do not require repayment. They can come from federal, state, or private sources. Scholarships are typically merit-based, meaning they are awarded depending on demonstrated academic ability or other specific talents.
Scholarships are often available from sources outside of APU. You can search for these scholarships through websites such as finaid.org or fastweb.com. The Student Services Center is sometimes notified of scholarships available through APU departments or local organizations, and can provide information about any available scholarships on request.
Education Loans
Education loans are usually repaid after graduation, may be deferred until after graduate school, and often have very low interest rates.
Military Benefits
Military members—and in some cases their spouses and dependents—qualify for financial assistance covering tuition, housing, and books. Azusa Pacific is a Yellow Ribbon University and Military Friendly School, so you can be confident that you'll receive the benefits and flexibility you need to complete your education.
Student Employment
On-campus student employment is available for students needing additional income to pay for education-related expenses. APU students also find work off campus in the surrounding community.
Net Price Calculator
We're committed to helping families understand early in the college search process the value of the APU experience, and options for affordable financing of a top-tier Christian university education.
Now that you're familiar with the financial aid opportunities available to APU students, it's time to estimate what your true cost may be to attend Azusa Pacific. Remember, estimations are only as accurate as the information you provide. Click on the Net Price Calculator button below to begin.
Net Price Calculator
To view specific requirements and coursework information, visit the current academic catalog:
Azusa Pacific University is accredited by the WASC Senior College and University Commission (WSCUC).
Career Outlooks and Outcomes
Student Journalists Gain a Professional Work Space with the New Convergent Media Center
Public relations majors have the opportunity to work in the $3 million state-of-the-art Convergent Media Center to create content and help real world organizations.
Note: This information is current for the 2023-24 academic year; however, all stated academic information is subject to change. Please refer to the current
Academic Catalog
for more information.