BSN to DNP
Enroll in the BSN to DNP Nursing Pathway at Azusa Pacific University
You'll accelerate your nursing career by progressing from a BS in Nursing (BSN) directly into the Doctor of Nursing Practice (DNP) without first earning the Master of Science in Nursing (MSN) needed in most traditional DNP programs. We'll make it easy to continue your education with multiple in-person locations and online. You can also choose between full- and part- time. You can choose a specialization as an Adult-gerontology Primary Care Nurse Practitioner, Family Nurse Practitioner, Health Systems Leadership.
Program at a Glance
The nationally ranked School of Nursing prepares nurses to lead the way in healthcare by providing a deeper level of compassionate care in clinics, hospitals, schools, and beyond.
Application Deadline
Contact for more information
Program Units
72-73
Cost Per Unit (Master's Courses):
$680-$860
Cost Per Unit (Doctoral Courses):
$1,160
Base Cost
$63,980-$77,060
Location
Azusa (Main Campus), Inland Empire, Monrovia, Online, San Diego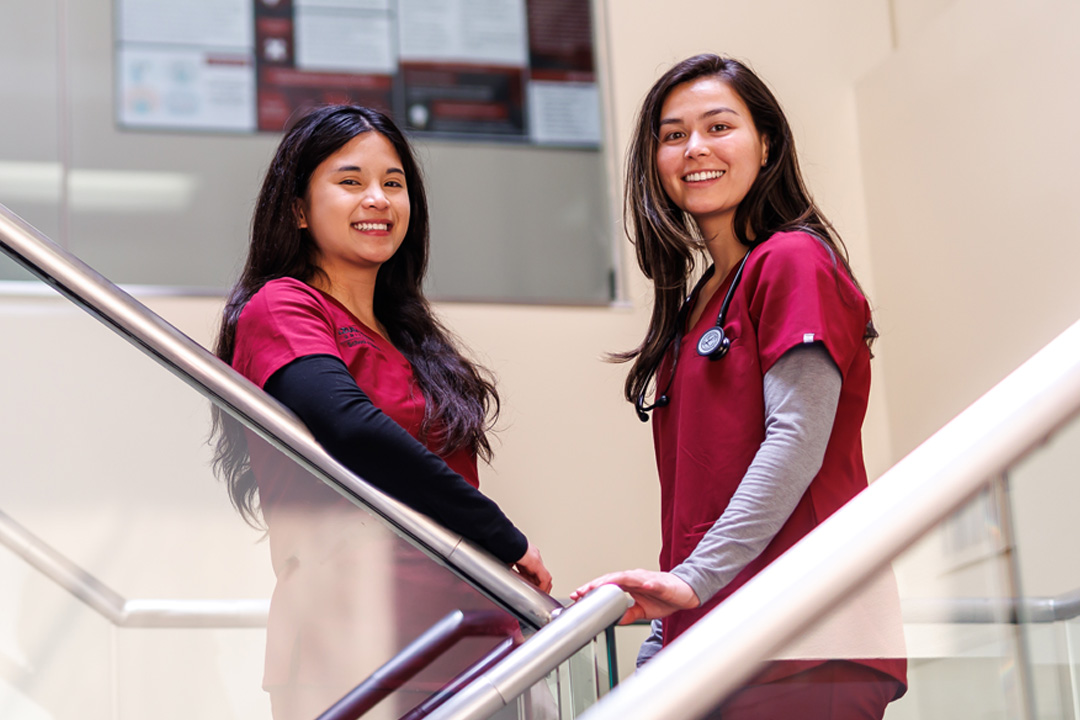 Gain Hands-on Experience
Network at intensives.

Complete a minimum of 1,000 clinical residency hours.

Develop an evidence-based, culminating project.
$166,630
is the average salary of DNPs in California. *nursingprocess.org
1 of 126
Best Western Colleges according to Princeton Review's 2023 Best Colleges Guide
13

:1
Student-to-faculty Ratio
Program Details
The BSN to DNP pathway allows RNs with a Bachelor of Science in Nursing to enter directly into the DNP program without first earning an MSN degree. This creates a seamless progression from the completion of a baccalaureate degree to advanced nursing practice. The BSN to DNP pathway includes two specialty tracks: Advanced Practice Registered Nursing (APRN)–Family Nurse Practitioner and Adult-geronotology Primary Care Nurse Practitioner, and Health Systems Leadership.
Browse the tabs below—if you have questions, visit the Student Services Center page, and we'll make sure you get the info you need.
What is required before an application is considered complete? We make it easy to progress through the admission process. Our admissions representatives work with you each step of the way, coordinating the application and registration processes with you.
BSN to DNP Pathway admission requirements must be met before an application is considered complete. In all cases, save copies of the documents you submit. Admissions requirements are:
$45 nonrefundable application fee

Official transcripts from all institutions leading to and awarding the applicant's BSN degree from a regionally accredited institution






An official transcript is one that Azusa Pacific University receives unopened in an envelope sealed by the former institution and that bears the official seal of the college or university. A cumulative minimum 3.0 (on a 4.0 scale) grade-point average on the posted degree is required for regular admission status. Provisional admittance may be granted to individuals with a lower GPA if competency can be shown through multiple measures.

Copy of current California RN license

Two recommendations (preferably one academic and one professional recommendation, at least one of them from the applicant's direct supervisor and/or a previous faculty member)

Written statement of educational objectives, with a focus on translational research, EBP or QI, and career goals

Current curriculum vitae or résumé

Evidence of written creative work and/or scholarly papers

At least eight months of work experience as an RN (for the APRN track)

Undergraduate research course

Undergraduate statistics course

Interview and holistic criteria (including any preceptor experience, presentations, languages, and/or volunteer activities)
International students have a separate application procedure that precedes the standard admission process. View international requirements.
Note: This program is not recommended for students who lack proficiency in basic academic skills, especially collegiate-level English communication skills.
What to Expect
Once APU receives your application, application fee, and official transcripts, your paperwork will be reviewed to determine any transfer credit and you will be scheduled for an interview with School of Nursing faculty. After the interview, you will be notified of your admission status. You will need to turn in all required documents in order to be considered for admission, and make a $500 nonrefundable deposit that will be applied toward your tuition.
If you are applying for financial aid, complete and submit the Free Application for Federal Student Aid (FAFSA) online for the corresponding academic year. Request financial aid transcripts from those institutions attended within the current calendar year—this is required by the U.S. Department of Education.
Qualified online program students will receive instructions for an invitation-only online registration process. Students will pay any outstanding fees prior to enrollment in courses, then complete enrollment paperwork online with a School of Nursing representative.
Some programs, including this one, begin as soon as there are enough students admitted to meet program course minimums.
See the table below for the tuition charges and fees that comprise your estimated total BSN to DNP Pathway cost. Admitted students will be required to submit a $500 nonrefundable deposit to hold their spot in the program. Check with your admissions representative for details.
Application

| | |
| --- | --- |
| Graduate and Professional Application Fee | $45 |
Enrollment
Tuition
($680-$860/unit for master's courses and $1,160/unit for doctoral courses)
$63,980-$77,060
Graduate Nursing Advanced Practice Lab Fee (per course, for NP and CNS students only; additional technology fees may apply)
$275
Nursing Clinical Fee (per course GNRS 732; includes malpractice insurance)
$200
Graduation

| | |
| --- | --- |
| Intent to Commence and/or Graduate Fee | $100 |
Paying for Your Degree
APU offers a variety of ways to help you pay for your degree. From scholarships and grants to loans and company reimbursement, we're committed to being sure that cost doesn't keep you from reaching your education goals.
Learn more about the financial aid opportunities available to you.
To view specific requirements and coursework information, visit the current academic catalog:
Where will I take classes?
BSN to DNP Pathway courses are held mostly online, but some classes may be in a blended and/or synchronous or asynchronous format.
Will APU help me find a clinical site?
Students are responsible for finding a clinical site and preceptor with the assistance of APU staff, faculty, and student placement coordinators. An affiliation agreement must be in place for each clinical site.
Are there any specific working experience requirements for students in the BSN to DNP Pathway?
The APRN-FNP track requires 8 months of experience working as a registered nurse. This may occur during the program if you are a new RN, and will need to be completed prior to entering the second year of courses. The Health Systems Leadership track does not have a specific work experience requirement.
Can I get an MSN degree conferred while I am in the BSN to DNP Pathway?
No. The MSN and DNP degrees are conferred at the end of the program.
Are there any courses I can take prior to being officially admitted to the BSN to DNP Pathway?
You can take GNRS 613 Graduate Statistics at APU without being admitted to the DNP program, but it is not eligible for financial aid unless you are officially admitted. You'll need to fill out and submit the Nondegree Intent Form (PDF), and our admissions representative can help you with this.
Can I work while in the program?
Yes, and 8 months of working experience is required prior to the second year of courses for the APRN-FNP track.
Can I attend the program part time?
Yes, students may take this program part time or full time.
If you have questions, we're here to help! Connect with a representative who can walk you through the program details and application process.
Contact Your Admissions Representative
School of Nursing
Mail
School of Nursing
Azusa Pacific University
PO Box 7000
Azusa, CA 91702-7000
Hours
Monday-Friday, 8 a.m.-4:30 p.m.
(voicemail messages left will be addressed on the next business day)
Student Services Center
Contact (626) 812-3016 or [email protected], and visit apu.edu/ssc for details on the admissions process, financial aid, and class registration.
International Services
International students should contact +1-626-812-3055 or [email protected], and visit apu.edu/international/.
Azusa Pacific University is accredited by the WASC Senior College and University Commission (WSCUC).

The baccalaureate degree in nursing, master's degree in nursing, and Doctor of Nursing Practice at Azusa Pacific University are accredited by the Commission on Collegiate Nursing Education.

The traditional baccalaureate nursing program, upper-division transfer (2+2/LVN to BSN) programs, entry-level master's program, and the nurse practitioner program are approved by the California Board of Registered Nursing.
Career Outlooks and Outcomes

APU School of Nursing Receives $4.4 Million in Grants from HRSA
The School of Nursing received $4.4 million in Nursing Student Loan forgiveness grants from the HRSA for both baccalaureate and graduate students.
Note: This information is current for the 2023-24 academic year; however, all stated academic information is subject to change. Please refer to the current
Academic Catalog
for more information.
*Base Cost (cost per unit x program units) is provided to aid in program comparison only.
All stated financial information is subject to change. View Tuition tab above.