Honors Humanities Major
Study Honors Humanities at Azusa Pacific University
You'll graduate as a scholarly disciple who is dedicated to loving God and neighbor, devoted to civic engagement, and committed to seeking truth, beauty, and goodness. You'll learn about good leadership, moral and intellectual virtue, and the Christian tradition as a high-achieving, academically motivated undergraduate student.
Program at a Glance
The Honors College educates the next generation of high-achieving academically motivated Christian leaders through a curriculum cultivating moral and intellectual virtue.
Application Deadline
For priority consideration, applications must be submitted by November 15, 2023, at 11:59 p.m. Applications will be accepted until the regular decision deadline of February 15, 2024; after this deadline, applications will be considered based on available space.
Program Units
48
Location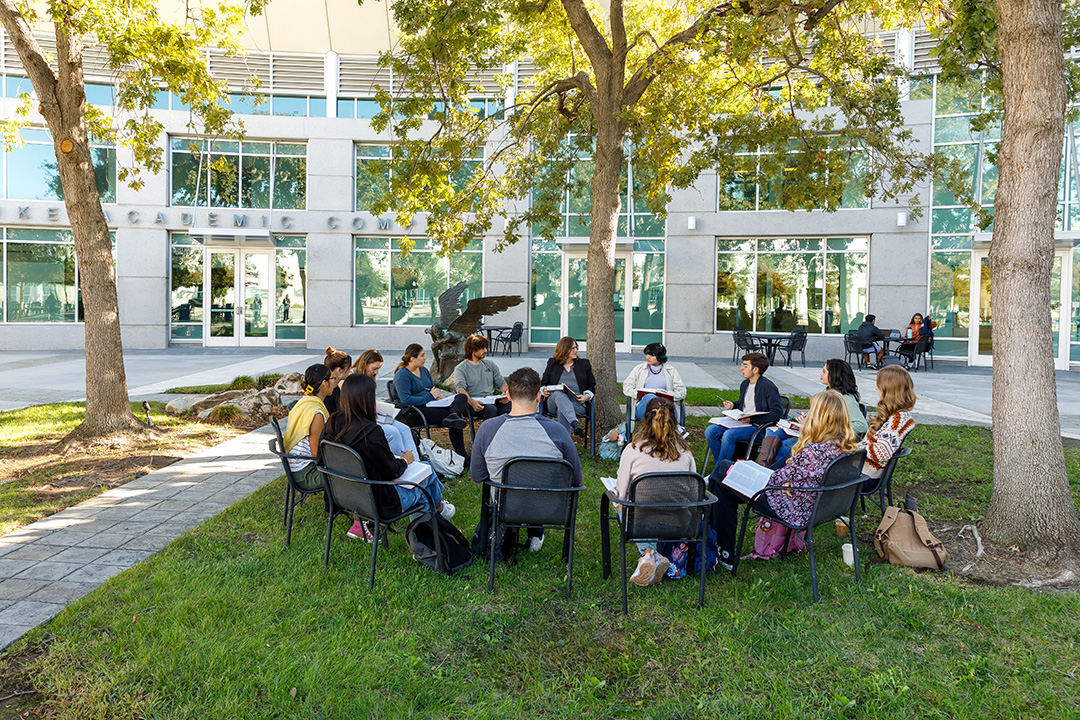 Gain Hands-on Experience
Experience in-depth learning in small, discussion-based, intellectually stimulating classes.

Study the humanities in a unique close-knit community alongside a second major of your choice.

Explore a storehouse of wisdom from great books in reading- and writing-intensive courses with no exams.

Refine skills essential in all vocational pursuits: reading, writing, listening, arguing, public speaking, teamwork.
1 of 126
Best Western Colleges according to Princeton Review's 2023 Best Colleges Guide
350
academically-motivated and engaged fellow students
12-15
closely-knit students in each discussion group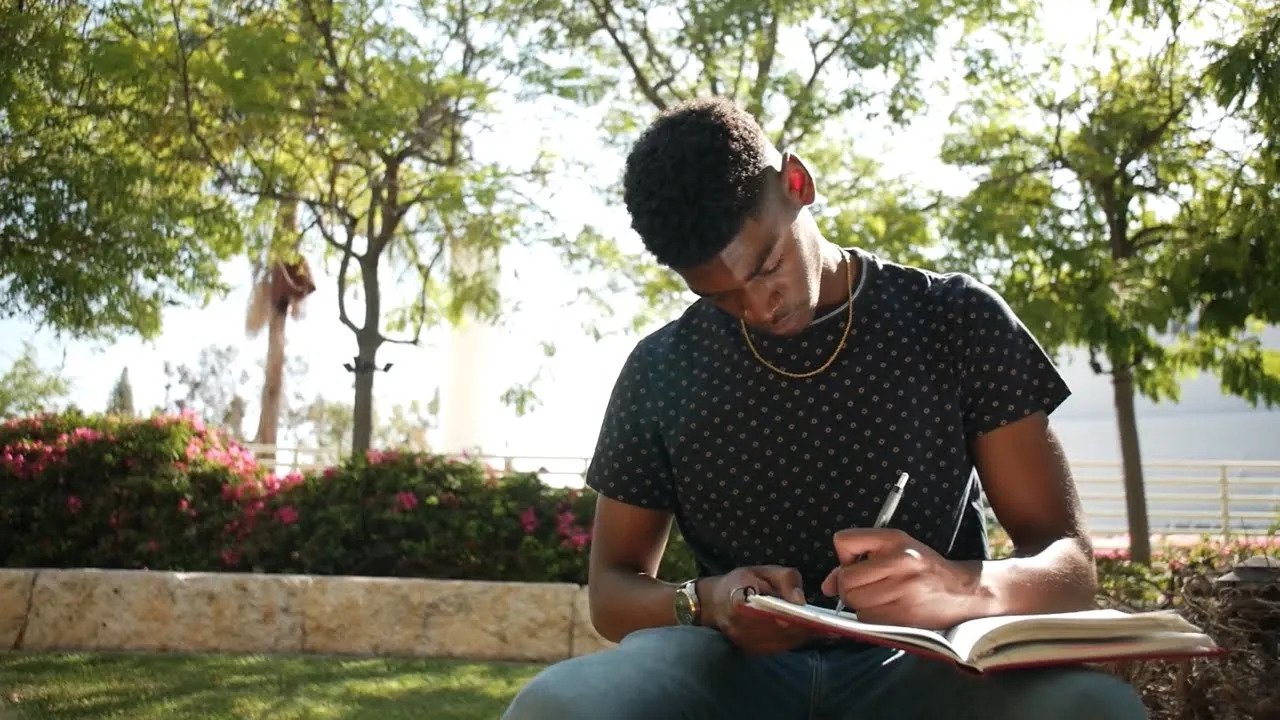 Clifford Young III '23, shares about how students in the Honors College read Great Texts on a journey of discovering themselves and how God works in humanity through loving one another.
Program Details
Browse the tabs below—if you have questions, visit the Student Services Center page, and we'll make sure you get the info you need.
The Honors College at Azusa Pacific University is a tight-knit community of scholars grappling with life's most important questions. It is a highly selective program, attracting students from among the top 10 percent of high school graduates. Students interested in joining the Honors College community are invited to complete the application at the bottom of this page.
Admission Requirements
Students who have a high school grade-point average (GPA) of 3.8 or higher are strongly encouraged to apply. Applicants are not required to submit test scores for Fall 2024, but if applicants are able to submit test scores, they are encouraged to do so—on average, students accepted into the Honors College have a weighted GPA of 4.2 and an SAT score of 1320, ACT of 29, or CLT of 86.
For priority consideration, applications must be submitted by November 15, 2023, at 11:59 p.m. Applications will be accepted until the regular decision deadline of February 15, 2024; after this deadline, applications will be considered based on available space.
Application Requirements
The Honors College application requires the following additional materials, which should be prepared before starting the form at the bottom of this page. Note: Only students who have applied for general admission to Azusa Pacific University will be considered for admission to the Honors College.
Names and email addresses for two academic references
A writing sample of approximately 500 words (two pages), which may be (1) an essay written for a high school class, or (2) a response to the following prompt:


Abigail Adams wrote, "These are the times in which a genius would wish to live. It is not in the still calm of life, or the repose of a pacific station, that great characters are formed. The habits of a vigorous mind are formed in contending with difficulties. Great necessities call out great virtues."

Write an essay in which you explore Abigail Adams' contention that hard times are ideal for shaping good character. Recount how that observation might apply to you and to challenges of our time.

The essay should be typed and submitted as a .doc or .pdf file. The text should be double spaced with one-inch margins on all sides. The preferred font size is 10- or 12-point. Essays should not exceed three pages. Essays will be evaluated based on thoughtfulness and clarity of written expression.

A Note to Trustees' Scholarship Applicants

If you are a Trustees' Scholarship applicant, your Honors College application is simplified and will not require you to submit another essay or additional references.
Online Application
The Honors College online application cannot be saved, so please be prepared to finish the entire application at one time.
Although a private college education may seem out of reach for many, recent research from Kiplinger reveals that the actual value of some private universities may prove this assumption wrong. In 2010, Kiplinger selected Azusa Pacific University for its Top 100 Best Values in Private Colleges rankings. Read more about APU's ranking in Kiplinger's Best Values in Private Colleges.
APU students may take advantage of three types of financial aid: scholarships and grants, education loans, and student employment.
Scholarships and Grants
Scholarships and grants are considered "gift aid" and do not require repayment. They can come from federal, state, or private sources. Scholarships are typically merit-based, meaning they are awarded depending on demonstrated academic ability or other specific talents.
Scholarships are often available from sources outside of APU. You can search for these scholarships through websites such as finaid.org or fastweb.com. The Student Services Center is sometimes notified of scholarships available through APU departments or local organizations, and can provide information about any available scholarships on request.
Education Loans
Education loans are usually repaid after graduation, may be deferred until after graduate school, and often have very low interest rates.
Military Benefits
Military members—and in some cases their spouses and dependents—qualify for financial assistance covering tuition, housing, and books. Azusa Pacific is a Yellow Ribbon University and Military Friendly School, so you can be confident that you'll receive the benefits and flexibility you need to complete your education.
Student Employment
On-campus student employment is available for students needing additional income to pay for education-related expenses. APU students also find work off campus in the surrounding community.
Net Price Calculator
We're committed to helping families understand early in the college search process the value of the APU experience, and options for affordable financing of a top-tier Christian university education.
Now that you're familiar with the financial aid opportunities available to APU students, it's time to estimate what your true cost may be to attend Azusa Pacific. Remember, estimations are only as accurate as the information you provide. Click on the Net Price Calculator button below to begin.
Net Price Calculator
To view specific requirements and coursework information, visit the current academic catalog:
The Honors College telos—its aim, purpose, end—is to liberally educate the next generation of high-achieving, academically motivated Christian leaders. The curriculum starts with the premise that good leadership requires the cultivation of moral and intellectual virtue—the habits of the heart and of the mind that enable one to determine what ought to be done and how best to do it.
Students in the Honors College at APU have the opportunity to study their primary major alongside Honors Humanities, equipping them with wisdom and virtue to enrich their careers and lives. Those who understand and develop this vocational combination graduate as scholarly disciples dedicated to loving God and their neighbor, devoted to civic engagement, and committed to seeking truth, beauty, and goodness.
Eight Vocational Spheres of Influence and Domains of Leadership
It is beneficial to address the nuances of the different Honors Humanities major combinations by looking at them through the lens of eight vocational spheres of influence and domains of leadership. This connects the study of the humanities to other areas of study. Each major combination will help you become a better leader, citizen, disciple, and scholar.
Reflective questions: What am I called to? What are my strengths? Where can I make the most impact in society? How can I engage society across multiple disciplines?
Arts and Entertainment
Honors students pursuing majors in the arts and entertainment sphere discover how creativity and beauty connect with people in the world around us. This sphere consists of musicians, filmmakers, producers, social media strategists, performers, artists, and more. Their vast knowledge of history and expression imprinted in this field enhances creativity and innovation for our culture and times.
As well-rounded professionals, they engage in their sphere of storytelling, creatively driven by the philosophical depth nurtured in Honors Humanities courses. These students' ability to perform, critically think, and intentionally communicate provides a dynamic perspective of the content consumed and produced in arts and entertainment, achieved through this combination of majors.
Learn more about each Arts and Entertainment major:
Behavioral Sciences
Honors students pursuing majors in the behavioral sciences sphere discover how communities and people thrive in society. Consisting of counselors, therapists, psychologists, social workers, law enforcement, government officials, and others, their multifaceted perspective engages the history of humanity through a philosophical lens, providing insight into the challenges that impact human flourishing.
As advocates in culture and society, they impact their sphere of behavioral sciences by deeply understanding various theories and disciplines of the mind in relation to the world around them. When these students lead, they impact their community with integrity and virtue,influencing ethical decision-making for transformative hope.
Learn more about each Behavioral Sciences major:
Business
These Honors Humanities majors specialize in learning how leaders ethically grow the prosperity and purpose of their business. Consisting of leaders, managers, investors, strategists, entrepreneurs, and more, their creativity and innovation are driven by their ability to think critically and lead purposefully.
As leaders who understand the power of philosophical, intrinsic motivation, they impact the sphere of business by critically applying professional and organizational values through ethical overarching systems. In addition, when leading in a global economy, they energize their teams through their ability to engage multicultural perspectives and worldviews with strong moral integrity for maximum impact.
Learn more about each Business major:
Communication and Media Relations
These Honors Humanities majors learn how to eliminate confusion by communicating with clarity and integrity. Consisting of communicators, storytellers, journalists, human resource professionals, organizational strategists, and public relations specialists, their blend of critical thinking, rhetorical effectiveness, and interpersonal skills in speaking and writing is proven by their published Oxbridge books.
They impact the sphere of communication and media relations by understanding the philosophy and humanity of their global audience, aiding in their ability to connect moral convictions with habits of the heart and mind. When they lead, they understand the importance of value-driven leadership that emphasizes the impact that belief systems have on engaging their audience, adapting language, asking questions, and applying knowledge for any organization.
Learn more about each Communication and Media Relations major:
Education
These honors students focus on how to educate and empower the next generation of leaders, disciples, citizens, and scholars. Consisting of educators, researchers, historians, translators/linguists, writers, and others, their educational background informs their ability to engage with diverse vocations, cultures, experiences, languages, and circumstances.
They impact their sphere of education by creating a space that emphasizes the telos (mission) of education and informs their pedagogy's ethos (values/habits). When they lead, their influence transforms their content into character development, leaving a lasting impact in every sphere of society locally and globally.
Learn more about each Education major:
Government and Law
These Honors Humanities majors learn how to effectively engage political challenges through peaceful interactions. Consisting of politicians, lawyers, diplomats, lobbyists, law enforcement agents, congressional affairs professionals, and more, their strong ethical foundation and knowledge of history inform the way in which they approach diverse perspectives and complex ideas.
They impact their sphere of government and law through the combination of classical and modern political thought. Their teams rely on them, expecting their critical approaches and analysis of various topics to play a leading role in the political affairs of their community, country, and even the entire world.
Learn more about each Government and Law major:
Science and Technology
Honors students pursuing majors in science and technology determine how to ethically engage in scientific discovery and technological advancement while understanding the needs of humanity. Consisting of doctors, nurses, researchers, engineers, mathematicians, data analysts, physical therapists, and more, their ethical and virtuous leadership allows them to engage any challenge with integrity. Through this major combination, they are able to foundationally understand, analyze, and deduce from dense text to effectively understand essential details across their various disciplines.
These students impact the sphere of science and technology through their strong holistic understanding of human interaction. This informs their deductive reasoning, inquisitive engagement, data integrity, and patient care. They impact their teams with their qualitative, philosophical, and ethical integration in a predominantly quantitative profession.
Learn more about each Science and Technology major:
Theology and Religion
These Honors Humanities majors learn how to explore truth and goodness in an ever-changing world. Consisting of theologians, pastors, philosophers, educators, leaders, and more, examples of their versatility include engaging with Scripture, understanding philosophical perspectives, synthesizing themes, and thinking critically.
Their ministry impacts the sphere of theology and religion with a compassionate understanding of humanity that connects various backgrounds and experiences. As they seek to establish a Biblical foundation in the pursuit of truth and goodness, they lead in a passionate, persevering, and inquisitive way, engaging with challenging questions while grappling with classical texts.
Learn more about the Theology and Religion majors:
Azusa Pacific University is accredited by the WASC Senior College and University Commission (WSCUC).
Featured Faculty
Professor, Honors College
Associate Professor, Honors College
Professor of Philosophy, Honors College
Career Outlooks and Outcomes
The Freshmen Honors Experience: Transforming Together
A group of freshmen reflect on how they've been transformed throughout their first semester in the Honors College, sharing what they've learned from great texts and how they've grown closer together.
Note: This information is current for the 2023-24 academic year; however, all stated academic information is subject to change. Please refer to the current
Academic Catalog
for more information.