Music and Worship Major
Study Music and Worship at Azusa Pacific University
You'll build experience in a successful internship program, grow connections with our vast network of worshiping communities, and hone your skills in one-on-one lessons with world-class professors. We make it possible to customize your area of study with eight specializations, for high placement rates in worship ministry and leadership positions. You'll be ready for your calling—prepared for authentic work and Spirit-filled ministry in worship leadership.
Program at a Glance
The School of Music nurtures students' faith and talents to develop and excel as world-class music professionals.
Application Deadline
February 15, 2024: Priority deadline for Fall 2024

December 1, 2023: Priority deadline for Spring 2024
Program Units
92
Location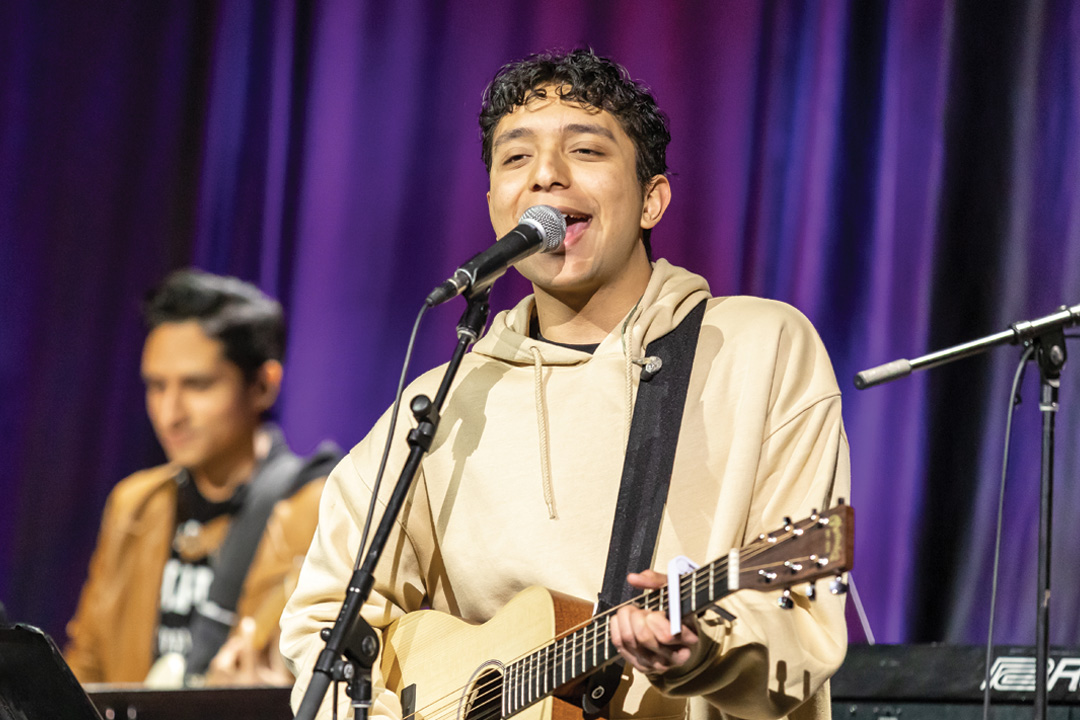 Gain Hands-on Experience
Boost your résumé with firsthand internship experience in a worshiping community.

Build expertise in a unique Worship Studio program.

Collaborate with and learn from other outstanding musicians and colleagues.

Explore the meaning of worship and how it nourishes the soul.

Develop biblical literacy and theological discernment as worship leaders.
1 of 126
Best Western Colleges according to Princeton Review's 2023 Best Colleges Guide
13

:1
Student-to-faculty ratio
100

%
of incoming students receive financial aid
Julia Stone: Re-imaging Church Worship Music
Through her studies as a music and worship major, Julia Stone '24 has discovered her calling to honor God by reimagining worship music.
Program Details
The music and worship major provides students with specialized training in the field of worship studies, and consists of preparation in music, worship, and theology. Graduates are given philosophical and practical tools needed to work effectively as vocational leaders in the field, while also being prepared for more specialized graduate studies. In addition to the music major core, coursework addresses worship arts leadership, technology, theology, culture, congregational song, worship design, and the practical tools needed for ensemble leadership and development.
Browse the tabs below—if you have questions, visit the Student Services Center page, and we'll make sure you get the info you need.
How to Apply
Complete your

APU Undergraduate Application

Select your music major (if applicable)

When prompted, complete your

music scholarship application

via Get Acceptd and schedule your audition

If eligible, complete your FAFSA (does not apply to international students)
Scholarships are awarded on a rolling basis, so students are encouraged to audition as soon as possible for best consideration.
Auditions
All music students are encouraged to audition. Once a student has completed their APU Application and Get Acceptd Application, they will schedule an audition through the Get Acceptd platform.
2023-2024 Audition Dates:
October 20, 2023

November 3, 2023

November 17, 2023

January 19, 2024

February 9, 2024

February 23, 2024

March 15, 2024

April 5, 2024

April 9, 2024
Learn more about auditions and scholarships.
Priority Deadlines
Fall 2024 Applicants
February 15, 2024, is the priority deadline for the Fall 2024 Music Undergraduate Auditions. Students must complete their APU Undergraduate Application, their Get Acceptd scholarship application, and their audition to be considered for a Music Talent Scholarship.
Spring 2024 Applicants
December 1, 2024, is the priority deadline for the Spring 2024 Music Undergraduate Auditions. Students must complete their APU Undergraduate Application, their Get Acceptd scholarship application, and their audition by the deadline to ensure consideration.
Plan a Visit
Applicants are encouraged to visit a class or meet with one of our professors. Just fill out a COTA Visitation Form to visit us and explore our programs further. We look forward to meeting you!
General Undergraduate Admission Requirements
Select an option below:
Vocāre: A Five-Year Bachelor's to Master's in Pastoral Studies Program
With Azusa Pacific University's Vocāre program, students may complete a Bachelor of Music in Music and Worship, as well as a Master of Arts in Pastoral Studies, in just five years, gaining the knowledge and skills to make an impact as a leader in a variety of ministry fields. Discover the Vocāre program
Although a private college education may seem out of reach for many, recent research from Kiplinger reveals that the actual value of some private universities may prove this assumption wrong. In 2010, Kiplinger selected Azusa Pacific University for its Top 100 Best Values in Private Colleges rankings. Read more about APU's ranking in Kiplinger's Best Values in Private Colleges.
APU students may take advantage of three types of financial aid: scholarships and grants, education loans, and student employment.
Scholarships and Grants
Scholarships and grants are considered "gift aid" and do not require repayment. They can come from federal, state, or private sources. Scholarships are typically merit-based, meaning they are awarded depending on demonstrated academic ability or other specific talents.
Scholarships are often available from sources outside of APU. You can search for these scholarships through websites such as finaid.org or fastweb.com. The Student Services Center is sometimes notified of scholarships available through APU departments or local organizations, and can provide information about any available scholarships on request.
Education Loans
Education loans are usually repaid after graduation, may be deferred until after graduate school, and often have very low interest rates.
Military Benefits
Military members—and in some cases their spouses and dependents—qualify for financial assistance covering tuition, housing, and books. Azusa Pacific is a Yellow Ribbon University and Military Friendly School, so you can be confident that you'll receive the benefits and flexibility you need to complete your education.
Student Employment
On-campus student employment is available for students needing additional income to pay for education-related expenses. APU students also find work off campus in the surrounding community.
Net Price Calculator
We're committed to helping families understand early in the college search process the value of the APU experience, and options for affordable financing of a top-tier Christian university education.
Now that you're familiar with the financial aid opportunities available to APU students, it's time to estimate what your true cost may be to attend Azusa Pacific. Remember, estimations are only as accurate as the information you provide. Click on the Net Price Calculator button below to begin.
Net Price Calculator
To view specific requirements and coursework information, visit the current academic catalog:
Coursework for the major includes studies in worship leadership, performance, artistic ministry, technology, music production, songwriting, spiritual formation, and theology. In addition, the following eight specializations allow you to complete more nuanced training in the area of your choice.
Vocal Performance
Designed expressly for the discerning artist who desires to develop expertise in vocal performance while studying worship leadership, this concentration provides the platform to cultivate the craft of performance.
Instrumental Performance
Often, instrumentalists are called upon to serve as Music Director for the worship team. This concentration prepares gifted musicians for vocational work in worship ministry, while also preparing them for freelance and entrepreneurial work in the field of instrumental performance.
Composing/Songwriting
Dedicated to the creatively minded musician, this concentration provides the skills and competencies needed for songwriters, composers, arrangers, and orchestrators.
Global Worship and Culture
If you sense a calling to missions and the global Church, this concentration provides a powerful educational platform for international ministry.
Music Production
A dynamic combination of curriculum in music business, music technology, and music production provides the skills and tools needed for those seeking ministry positions in the technical arts.
Christian Ministries
In addition to rigorous training in worship and the arts, the Christian ministries concentration provides relevant skills for pastoral ministry and practical theology.
Biblical Studies
Designed specifically for the musical theologian, this concentration provides the equivalent of a minor in biblical studies.
Fine Arts
Today's churches often seek leaders who can facilitate artistic output and oversee visual aspects of communication. This concentration provides resourcing and tools for such a role, enabling the musician-artist to provide thoughtful and creative leadership.
Azusa Pacific University is accredited by the WASC Senior College and University Commission (WSCUC).

A degree from Azusa Pacific University is respected and recognized internationally, and accredited by the

National Association of Schools of Music

(NASM).
Featured Faculty
Interim Dean, College of the Arts; Professor, School of Music
Associate Professor; Director of Worship Studies; Director of the Angeles Worship Initiative
Career Outlooks and Outcomes
Helena Mayer '20: Reaching the Lost Through Music
At just 25-years-old, Helena Mayer '20 has built a strong career as a musician. Her songs have been streamed more than 10 million times on Spotify and she performs four times a week for more than 9,000 followers on Twitch.​
Note: This information is current for the 2023-24 academic year; however, all stated academic information is subject to change. Please refer to the current
Academic Catalog
for more information.