The Provost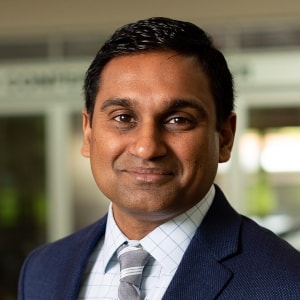 The provost guides the strategic academic vision for the university and oversees all academic matters, including hiring new faculty, working with faculty to develop new programs and initiatives, and setting academic policy.
APU's provost, Rukshan Fernando, PhD, believes in APU's mission of outstanding faculty, staff, and administrators shaping students in their academic, professional, and spiritual capacities to make a positive difference in their workplaces, communities, and homes. His research and teaching expertise lie in the arenas of leadership identity, higher education administration, and inclusive excellence. One of his main passions is to empower APU's diverse student body to grow in its capacity to facilitate wholeness in the world.
Prior to becoming provost, Fernando was interim dean of the School of Business and Management, interim head of University Libraries, and associate dean in the School of Behavioral and Applied Sciences at APU. He has been a consultant to nongovernmental organizations in Sri Lanka, Ecuador, and Nigeria, as well as a technical expert for the United States Department of Housing and Urban Development and the United States Department of the Treasury. He was selected to participate in Harvard University's Management Development Program and the WASC Senior College and University Commission's Assessment Leadership Academy, and has secured research grants related to leadership, poverty, diversity, and sustainability. Fernando also is active in his community as a governing board member of the Glendora Unified School District.
Prior to becoming a social work educator, Fernando was the associate director of Housing Unlimited, Inc., an affordable-housing organization in Rockville, Maryland, for individuals with psychiatric disabilities. He and his wife have two children and enjoy travel, the outdoors, and all types of ethnic food.