Faculty Employment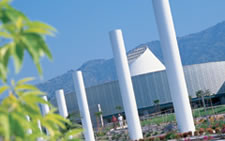 Faculty Positions
Azusa Pacific University offers numerous full-time faculty positions and adjunct faculty positions. For a comprehensive Christian university, the salary scale is quite competitive. Faculty morale is high, and there are many opportunities for growth and ministry.
We invite applications for full-time and adjunct faculty positions. We desire to establish a pool of qualified adjunct candidates who would enjoy teaching undergraduate and graduate students. Instructors will be drawn from that pool as the need arises.
Work at Azusa Pacific University
Azusa Pacific University offers a wide variety of employment opportunities at our campus locations in Azusa, the Inland Empire, Los Angeles, Murrieta, Orange County, San Bernardino, and Victorville. Take a few moments to familiarize yourself with who we are as a Christian university and community before you apply for employment.
What We Believe
As an evangelical Christian university, Azusa Pacific affirms the supremacy of Christ in all areas of life. These beliefs and values exist at the core of the university. Should your professional interests lead you to consider employment at Azusa Pacific, we encourage you to explore what we believe in order to better understand the university and where we stand as a faith community.
About the University
Accredited by the WASC Western Association of Schools and Colleges (WSCUC), Azusa Pacific is one of the leading evangelical Christian universities in the United States, offering 51 undergraduate majors, 30 master's degrees, 14 certificates, 13 credentials, and 8 doctoral programs to its nearly 10,000 students.
Azusa Pacific's main campus is located in the San Gabriel Valley area of Southern California—only minutes from the mountains and an hour from the ocean and the desert. Learn more about the campus.
The university provides outstanding opportunities for employees in advancement, professional growth, and Christian ministry. APU seeks employees who model excellence in their discipline and have a clear and compelling understanding of their faith and Christian commitment.
"Spirit of Place"
As a Christian institution of higher education with a rich heritage of Christian belief, values, and practices, Azusa Pacific also nurtures a strong tradition of scholarship and academic freedom. The combination of Christian conviction and higher education produces a context in which both God is honored and students, staff, and faculty seek to learn, develop, and serve others. We wouldn't have it any other way.
Safety and Security
At Azusa Pacific, we strive to provide a safe and secure living, learning, and working environment for our campus community. Per the Clery Act, APU is required to publish the actual number of crimes reported to campus authorities during the past three years. You can obtain a copy of these Department of Campus Safety reports online.
Note: This information is current for the 2023-24 academic year; however, all stated academic information is subject to change. Please refer to the current Academic Catalog for more information.