Theology Major
Study Theology at Azusa Pacific University
You'll be equipped and encouraged to become an effective and faithful theologian, well-prepared for graduate education as well as for Christian service in the Church and the world. Engage with a broad range of theological resources, apply your learning to contemporary issues, and develop a solid foundation of Christian theology—built up to live a vital faith in a postmodern, pluralistic society.
Program at a Glance
The School of Theology at Azusa Pacific University trains students for effective ministry in the church and around the world through practical programs in a supportive Christ-centered community.
Application Deadline
The admission requirements for your

theology major

will vary depending upon your status as a first time freshman, transfer, or international student.
Program Units
36-39
Location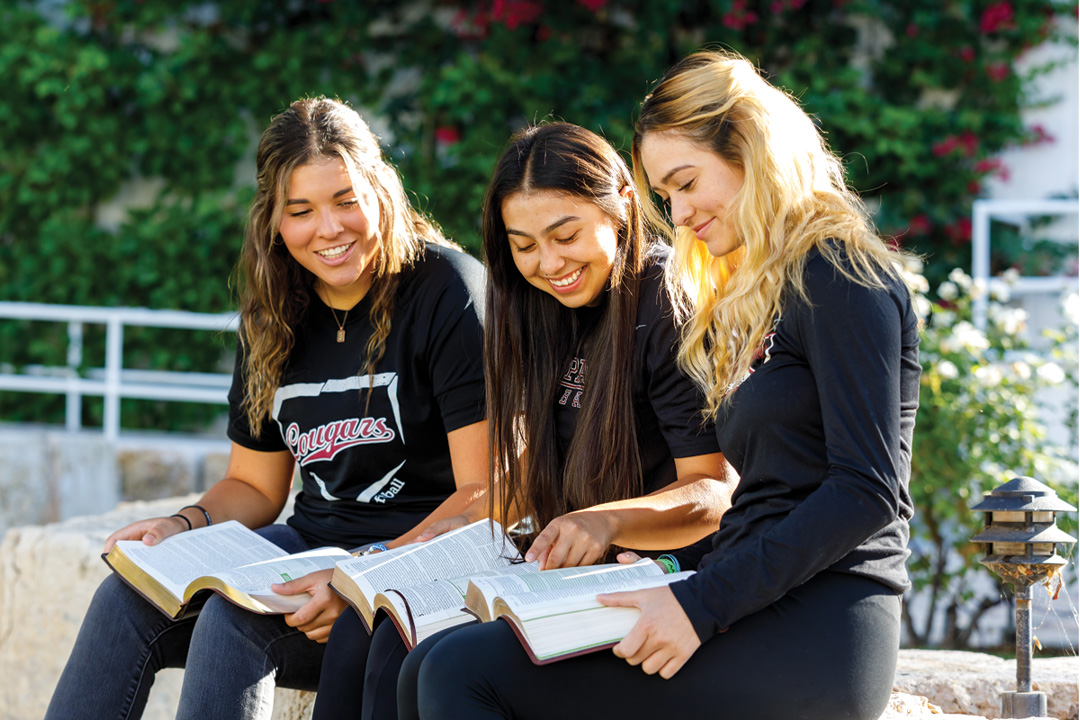 Gain Hands-on Experience
Articulate what you believe and why.

Engage in sustained and thoughtful devotion to God and the Gospel.

Take courses in apologetics, ethics, social issues, and more.

Study firsthand the doctrines of the ancient and contemporary Church.

Explore a careful articulation of the mystery, grace, and hope of God's self-disclosure in Jesus Christ.
1 of 126
Best Western Colleges according to Princeton Review's 2023 Best Colleges Guide
13

:1
Student-to-faculty ratio
#8
on the 2023 Most Well Attended Bible Majors in California ranking
Program Details
The theology major equips and encourages undergraduate students to become effective and faithful theologians, well-prepared for further theological education as well as for service to the Church, by developing in them suitable analytical, reflective, and expressive skills and bringing them into fruitful engagement with a broad range of theological resources as they learn to apply Christian theology to contemporary issues.
Browse the tabs below—if you have questions, visit the Student Services Center page, and we'll make sure you get the info you need.
General Undergraduate Admission Requirements
Select an option below:
Although a private college education may seem out of reach for many, recent research from Kiplinger reveals that the actual value of some private universities may prove this assumption wrong. In 2010, Kiplinger selected Azusa Pacific University for its Top 100 Best Values in Private Colleges rankings. Read more about APU's ranking in Kiplinger's Best Values in Private Colleges.
APU students may take advantage of three types of financial aid: scholarships and grants, education loans, and student employment.
Scholarships and Grants
Scholarships and grants are considered "gift aid" and do not require repayment. They can come from federal, state, or private sources. Scholarships are typically merit-based, meaning they are awarded depending on demonstrated academic ability or other specific talents.
Scholarships are often available from sources outside of APU. You can search for these scholarships through websites such as finaid.org or fastweb.com. The Student Services Center is sometimes notified of scholarships available through APU departments or local organizations, and can provide information about any available scholarships on request.
Education Loans
Education loans are usually repaid after graduation, may be deferred until after graduate school, and often have very low interest rates.
Military Benefits
Military members—and in some cases their spouses and dependents—qualify for financial assistance covering tuition, housing, and books. Azusa Pacific is a Yellow Ribbon University and Military Friendly School, so you can be confident that you'll receive the benefits and flexibility you need to complete your education.
Student Employment
On-campus student employment is available for students needing additional income to pay for education-related expenses. APU students also find work off campus in the surrounding community.
Net Price Calculator
We're committed to helping families understand early in the college search process the value of the APU experience, and options for affordable financing of a top-tier Christian university education.
Now that you're familiar with the financial aid opportunities available to APU students, it's time to estimate what your true cost may be to attend Azusa Pacific. Remember, estimations are only as accurate as the information you provide. Click on the Net Price Calculator button below to begin.
Net Price Calculator
To view specific requirements and coursework information, visit the current academic catalog:
Azusa Pacific University is accredited by the WASC Senior College and University Commission (WSCUC).
Featured Faculty
Adjunct Professor, Department of Theology
Chair and Professor, Department of Theology
Adjunct Professor, Department of Theology
Career Outlooks and Outcomes

APU Receives $5 Million Lilly Endowment Grant in Partnership with LPU and LABI
APU received a $5 million grant from the Lilly Endowment in partnership with Life Pacific University and the Latin American Bible Institute that will strengthen pathways for theological education for Hispanic students.
Note: This information is current for the 2023-24 academic year; however, all stated academic information is subject to change. Please refer to the current
Academic Catalog
for more information.