The Top Nine Nontraditional Art History Careers
Can an art history degree be applied in the marketplace? While an art history master's program prepares students for traditional museum and academic roles, it also provides the foundation for many self-employed fine arts jobs and the following nontraditional art history careers: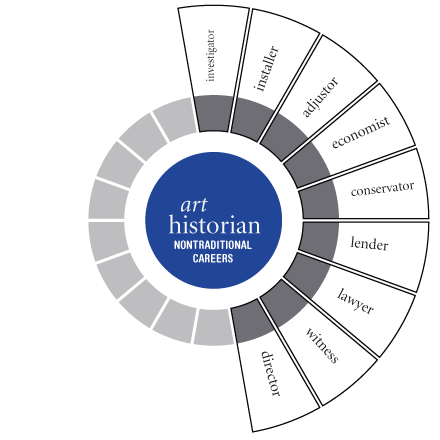 1. Art Crime Investigator
The FBI's Art Theft program coordinates an Art Crime Team consisting of 14 special agents and 3 prosecuting attorneys. The team's members receive specialized training in art and cultural property investigations and assist in art-related investigations worldwide. These roles require an inquisitive nature, an interest in research, a high level of physical fitness, and investigative skill. Art crime investigators can also expect significant job variety, travel, and excellent benefits.
2. Art Exhibit Installer
Both museums and independent art installation companies employ art exhibit installers. Art exhibit installers must have an eye for detail and the artistic placement of works, knowledge of artistic mediums, mechanical skill, and the interpersonal skills necessary to work closely with museum or business curators, artists, and personal art collectors. Especially in urban areas, starting an independent art installation company represents a promising entrepreneurial venture and an opportunity to interact with rare and valuable works of art.
3. Art Insurance Adjustor
An art insurance adjustor works for an insurance company to examine damage to an insured item, decide what work needs to be done to repair, clean, or restore it, and determine how much money the repair work will cost. Art insurance adjustors understand multiple artistic mediums, methods for cleaning, restoring, and otherwise repairing artwork, and must have the ability to creatively problem-solve for each unique case as it occurs. Adjustors may contract cleaning or restoration services, oversee the safe removal and transport of works, interact with artists and artwork owners, and may also work with police, emergency services, government personnel, or the FBI to remove and repair artwork damaged during major emergencies.
4. Art Economist
The purchase of fine art represents a unique combination of acquisition for personal enjoyment and investment for financial gain. This dynamic becomes even more pronounced during periods of economic downturn, such as the current recession. The recent emergence of publications like The Art Economist and firms specializing in analysis of the art economy displays the increasing level of interest in the study of the art market through a macroeconomic and microeconomic lens. An academic and practical study of the modern art economy represents an opportunity for art historians to apply research skills in a real-world setting.
5. Architectural Conservator
Like art conservators, architectural conservators specialize in the preservation, care, and restoration of architectural works, ranging from historic buildings to large sculptures in outdoor or garden settings. The role typically balances office and project management work with outdoor surveying, site visits, sample-taking, and travel. Management skills, attention to detail, and the patience to see restoration projects through to completion are essential in this role. In addition to a master's in art history, architectural conservators often pursue chemistry coursework and certification in conservation techniques.
6. Art Investing/Art Lending (Pawning)
Art investment typically requires extensive knowledge of the art world and art economics, significant up-front funding, and tolerance for risk. Art lending represents another side of this world, where art lenders use the pawnshop model, using artwork as collateral for loans. This field fulfills a need in the high-end art world, especially during difficult economic times. Artwork represents an illiquid asset, and art owners and artists themselves often wish to tap into the value of their collections without selling the pieces themselves. The art lending/pawning field can be litigious, however, and may be viewed with distaste by some members of the art world. Nevertheless, it serves a legitimate need, and represents an opportunity for a profitable career.
7. Art Lawyer
Massive amounts of money, time, and talent flow through the art world, which gives rise to a multitude of legal disputes. Litigation can center around copyright concerns, contract disputes, fraud, and artists' rights concerns. In addition to their art history master's degree, art lawyers will need a Juris Doctor (JD) degree and expertise in contract law.
8. Fine Arts Expert Witness
The complexities of the art industry, including art valuing, restoration, purchase, sale, and other business interactions often surpass the knowledge of those involved in legal disputes. Thus, lawyers look for certified expert witnesses to provide expert testimony, depositions, and art evidence analysis. The expert witness role presents an opportunity for significant profit, as experts typically charge high hourly rates, project fees, travel fees, and retainers. The role requires extensive research and writing skills, excellent verbal communication, and the ability to remain calm in the face of cross-examination. In addition to art history master's work, expert witnesses typically gain certification from an expert witness preparation company.
9. State Arts Agency Director/Staff Member
State arts agencies strive to increase public access to the arts and work to support and grow their state's arts sector. Most states have a state arts agency, which draws funds from the National Endowment for the Arts (NEA) that was established by Congress in 1965. State arts agencies offer unique combinations of grants and services for artists, arts organizations, schools and community groups. These agencies require directors, art program liaisons, editors, and other staff, whose roles vary depending upon the particular agency's initiatives.
For more information, visit Azusa Pacific University's Online MA in Modern and Contemporary Art History.
For more art history careers, check out these related resources:
Note: This information is current for the 2021-22 academic year; however, all stated academic information is subject to change. Please refer to the current Academic Catalog for more information.