Biography
Jon R. Wallace, DBA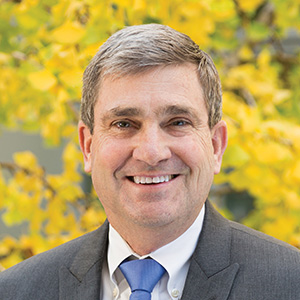 Known for his ethical leadership and heart for college students, Jon R. Wallace, DBA, became Azusa Pacific University's 16th president on November 27, 2000. Building upon the legacy of his predecessors and extending today's 119-year-old motto God First, Wallace advances APU's shared vision to become "a premier Christian university and a recognized leader in higher education, a city on a hill that reflects the life of Christ and shines the light of Truth."
Under Wallace's leadership, Azusa Pacific's academic reputation has grown, rendering it a preferred destination for gifted faculty, staff, and students. Wallace works collaboratively with the Board of Trustees and the Office of the Provost, reimagining the university's approach to recruit, retain, and develop expert faculty who explore God's Truth through research and scholarship.
President Wallace's 30 years in higher education provide him with a deep appreciation for the far-reaching impact of an Azusa Pacific education and value for faculty, staff, and students. Wallace remains dedicated to developing a highly qualified faculty; maintaining academic quality and transformational scholarship; integrating faith and learning; ensuring academic and institutional service and support; cultivating future and innovative educational initiatives; and advancing responsible stewardship, diversity, and globalization; and implementing a comprehensive capital campaign. In doing so, President Wallace and the university community seek to equip disciples and scholars to advance the work of God in the world as difference makers eager to walk in obedience to Him, be the kind of people we hope for as neighbors and colleagues, and see the value of all people.
Wallace attends Baseline Community Church, where he has served as an elder. His wife, Gail, holds a Ph.D. in Education and teaches courses in adult development and ethical issues in health care. They have three adult children, David, Matt, and Kate; two daughters-in-law; a son-in-law; and five grandchildren.
Education
Postdoctoral Study, Harvard University's Institute for Educational Management
DBA, United States International University
MBA, Azusa Pacific University
B.A., Azusa Pacific University
Professional Affiliations