18th Annual Nursing Research Symposium
An Interprofessional Approach to Address Behavioral Health and Wellness in Children
Thursday, March 30, 2023
9 a.m.-4 p.m.
Felix Center
Azusa Pacific University
701 E. Foothill Blvd Azusa, CA 91702
Learn about the symposium and view the flyer
Watch Live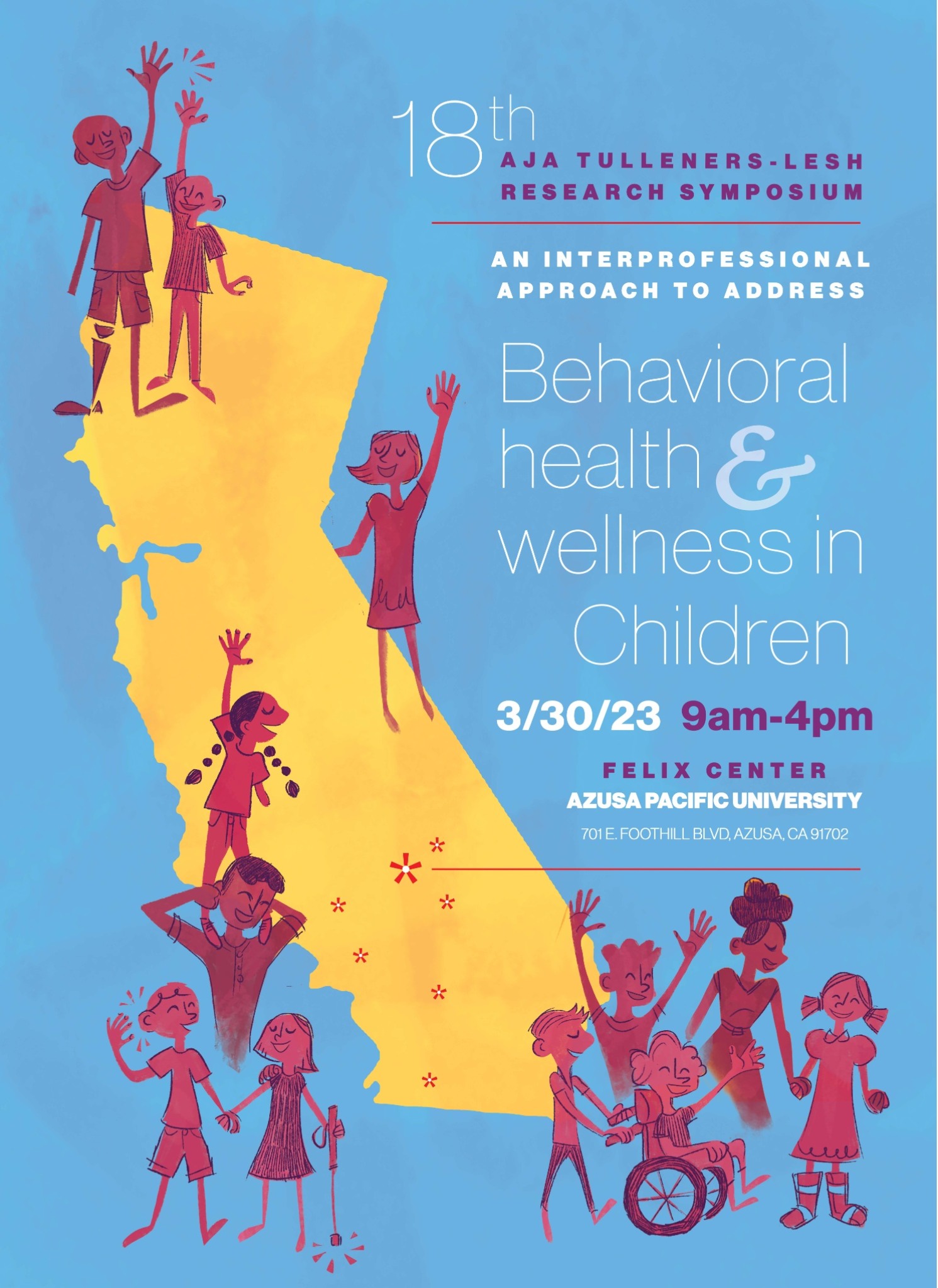 Azusa Pacific University's School of Nursing and the Iota Sigma Chapter of Sigma Theta Tau International invite nursing and public health professionals, as well as faculty and students, to the 18th Annual Aja Tulleners-Lesh Research Symposium to present research and dialogue regarding behavioral health and wellness in children.
About the Research Symposium
The School of Nursing sponsored the first Research Day in spring 2005 in conjunction with the installation of Aja Lesh, PhD, RN, as dean. Today, the Research Symposium stands as an important annual outreach event. Guests include preceptors, nurses in collaborating healthcare facilities, and APU students, faculty, and alumni. Each year, research presentations focus on a specific theme, such as Addressing Health Disparities; Building Bridges Across the Globe: Research, Academic, and Service Partnerships; and Dignity Through Life's Transitions: Optimizing Spiritual Care.
Featured speakers have included Betty Ferrell, PhD, FAAN; Nancy Fugate Woods, PhD, RN, FAAN; Josepha Campinha-Bacote, PhD, MAR, APRN, BC, CNS, CTN, FAAN; Janice Morse, RN, PhD; Loreta Sweet Jemmot, PhD, FAAN, RN; Adey Nyamathi, ANP, PhD, FAAN; and Patricia M. Davidson, RN, BA, Med, PhD, FRCNA.
The objectives of the symposium are to:
Provide an avenue for dissemination of evidence-based research and linkages to clinical applications.
Utilize researchers as role models to encourage excellence in students and colleagues.
Provide networking opportunities and promote collegiality among students and nursing professionals.
Provide a forum for students and nurses from the community to present their work.
Provide a forum for dialogue and collaboration with students and service and academic partners, locally and internationally.
Call for Abstracts
Students, faculty, and nurses from the community are invited to submit abstracts for posters to be presented during our poster session.